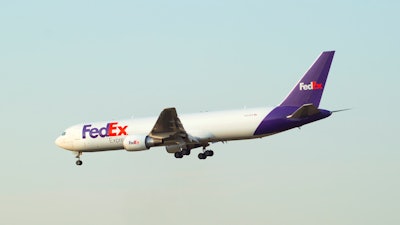 iStock
WASHINGTON (AP) — Federal safety officials said Wednesday they were unable to determine why a pin in a landing gear of a FedEx plane came loose during a 2020 flight, disabling the gear and forcing pilots to make an emergency landing.
The National Transportation Safety Board said they believe the pin, which helps secure one end of a rod to another part on the landing gear brake assembly, was in place when the plane took off from Newark, New Jersey. They said when it came loose during the flight to Los Angeles, it allowed the rod to become jammed in the landing gear.
The NTSB said the mechanic who last worked on the brake assembly a month before the incident did not recall anything unusual about the job.
Sparks flew when the cargo plane made a pre-dawn landing at Los Angeles International Airport. The three-year-old Boeing 767 came to rest on the engine housing under its left wing because the landing gear on that side never extended.
The two pilots used a rope to escape the cockpit after getting an engine-fire warning — the plane was not required to have evacuation slides because of an exemption granted to FedEx by the Federal Aviation Administration. The co-pilot lost his grip on the rope and fell to the runway, suffering a fractured heel.