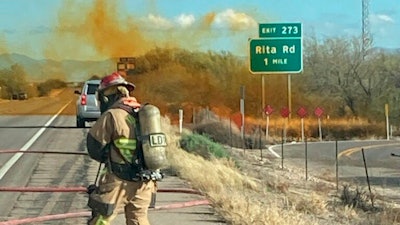 Tucson Fire Department via AP
TUCSON, Ariz. (AP) — The main freeway in southern Arizona reopened in both directions Wednesday evening and officials said people living southeast of downtown Tucson could return home a day after a deadly crash sent acrid plumes into the desert sky and prompted evacuations.
"The public may resume normal activities," Arizona's Department of Public Safety said in statement Wednesday night.
Less than 2 miles (3.2 kilometers) of Interstate 10 had been closed in both directions for more than a full day after a truck tractor pulling a box trailer crashed Tuesday afternoon.
Residents within a half-mile (800 meters) of the crash initially were told to leave, and those within 1 mile (1.6 kilometers) were told to shelter in place after liquid nitric acid was determined to be leaking from the wreck.
The shelter in place order was extended for a time to 3 miles (4.8 kilometers) but was lifted altogether by Wednesday night. Before that, area residents were told to turn off heaters and air conditioning systems that bring in outside air.
The acid sent up eerie yellow and red plumes over a section of the asphalt roadway that runs through dry land scattered with scrub brush. The interstate stretches across the entirety of southern Arizona in its nearly 2,500 mile (4,023 kilometer) coast-to-coast sweep from Santa Monica, California, to Jacksonville, Florida.
Officials have been dealing with Arizona's hazardous crash as Ohio residents continue to raise concerns about the release of toxic chemicals on board a freight train that derailed Feb. 3 and left 50 cars in a fiery, mangled mess. There were no injuries but officials later ordered the evacuation of the immediate area. Residents in that state worried about the potential health impacts from the wreckage.
Winter weather temporarily impeded hazardous material recovery and mitigation efforts overnight, but by Wednesday morning, officials said the material had been removed from the truck and crews were using dirt to keep more nitric acid from being released.
The driver of the truck was killed, the department said, but few other details about the accident were released.
The University of Arizona Tech Park was among the areas evacuated. Some schoolchildren in Rita Ranch were among those who sheltered in place, the Arizona Daily Star reported. Officials canceled classes at several nearby schools Wednesday.
A high school that was ordered closed, a mobile home park for older adults and an RV resort are located less than a mile from the accident site. Calls left for managers at the Trails West Active Adult Community and Voyager RV Resort & Hotel seeking information about whether people had been affected were not immediately returned Wednesday.
Nitric acid is used to make ammonium nitrate for fertilizers and in the manufacture of plastics and dyes.
The Centers for Disease Control and Prevention's website says nitric acid is a highly corrosive, colorless liquid with yellow or red fumes and can cause an acrid smell.
It says exposure to nitric acid can irritate the eyes, skin and mucous membranes. Depending on how long someone is exposed to the material, and how much, it also can cause delayed pulmonary edema, pneumonitis, bronchitis and dental erosion.
Pima County's health department and poison control center on Wednesday recommended that anyone who may have been in contact with the gas for more than 15 minutes get a medical evaluation if they develop respiratory difficulties like wheezing or shortness of breath. They said symptoms could be delayed up to 24 hours after exposure.
Health officials said it is possible that some people living within a mile of the accident may have been exposed to the material for more than 15 minutes if the building where they were sheltering in place was using an air conditioner or heater pulling in air from the outside. But they said people who simply drove through or past the accident and chemical plume should not have been affected.