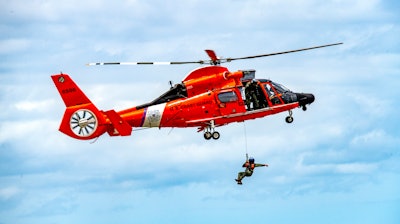 iStock
On Feb. 25, 2022, welders employed by Carlos Arturo Guerrero – operating as CAG Professional Services in Brownsville – were cutting parts for metal scrap on the main deck of the Pride Wisconsin drilling platform while employees of Houston-based PH Steel made electrical repairs when a fire began. The decommissioned platform is in the Anchorage Basin near a Sabine Pass shipyard in Texas.
A recent OSHA investigation found that both companies failed to follow required safety standards and endangered the lives of nine workers who found themselves trapped – nearly 30 stories high – atop the burning jack-up drilling platform.
The workers were unable to lower themselves and escape after the fire burned the platform's generator wires. When it became clear that first responders could not reach the workers, a U.S. Coast Guard helicopter was summoned, and its crew completed the rescue.
OSHA found CAG Professional Services had a written fire safety plan that addressed evacuation procedures from tall jack-up platforms, but did not use the plan when needed. The company faces $140,055 in proposed penalties.
The agency also cited PH Steel, which had no written fire safety plan, and proposed $72,511 in penalties.
"These companies are fortunate their non-compliance did not lead to tragedy when fire erupted on the Pride Wisconsin," said OSHA Area Director Mark Briggs in a statement. "In an industry where workers face potentially serious and deadly hazards every day, employers must act quickly to safely evacuate workers and must ensure workers are trained on proper safety procedures."
The companies have 15 business days to comply, request an informal conference with OSHA's area director, or contest the findings before the independent Occupational Safety and Health Review Commission.