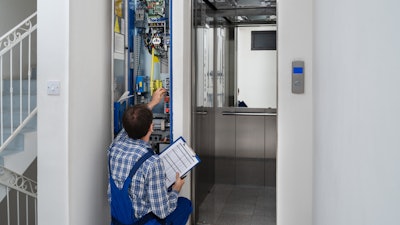 iStock
A child was killed in a residential elevator and vacation rental platforms such as AirBnB, Vrbo and others received a letter from Robert Adler, acting chairman of the U.S. Consumer Product Safety Commission (CPSC), urging steps be taken to protect vulnerable customers.
"The agency is taking steps with the manufacturers, but we need the businesses that facilitate vacation rentals to join us," Adler said in a release. "These injuries and deaths are horrific, and we need property owners and rental agencies to disable elevators immediately until they have been inspected."
Adler included three requests of the rental companies: Inform customers about the potential hazard, require all hosts using the platform to disable the elevators in their properties "unless and until those members provide proof of an inspection to certify that no hazardous gap exists" and make such an inspection a requirement for anyone posting a listing.
Gaps between doors in residential elevators pose a large risk to children. A gap between the exterior door and the inner door can be spacious enough to trap a child between the two doors.
Children ranging in ages from two to 12 have been crushed to death, suffered skull fractures, fractured vertebrae and traumatic asphyxia.
CPSC issued warnings, recalls and a lawsuit regarding residential elevators. For more safety information, see CPSC's safety education messages on residential elevators. CPSC will continue its investigation into the safety of residential elevators. It advises consumers to report any residential elevator safety incidents at saferproducts.gov.
About the U.S. CPSC
The U.S. Consumer Product Safety Commission (CPSC) is charged with protecting the public from unreasonable risks of injury or death associated with the use of thousands of types of consumer products. Deaths, injuries and property damage from consumer product incidents cost the nation more than $1 trillion annually. CPSC's work to ensure the safety of consumer products has contributed to a decline in the rate of deaths and injuries associated with consumer products over the past 40 years.
Federal law bars any person from selling products subject to a publicly announced voluntary recall by a manufacturer or a mandatory recall ordered by the Commission.