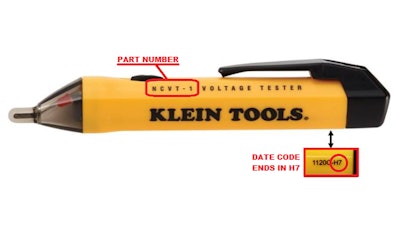 On June 9, 2021, Klein Tools and the Consumer Product Safety Commission (CPSC) announced a recall of non-contact voltage testers following two reports of voltage testers not working properly and one shock injury.
The recall involves Model NCVT-1. According to the CPSC, the on/off button can get stuck during the power on/off cycle, causing the tester to malfunction. As a result, users testing electrical sources could fail to be warned of live voltage, posing a shock hazard.
The recall impacts some 1,690,000 testers sold separately and in kits from January 2020 through March 2021 at Home Depot stores, industrial distributors and electrical wholesalers.
The testers have a yellow housing, a tinted gray tip and a black pocket clip on the back. The part/model numbers are on the top of each unit, and date codes are printed under the logo.
The CAT IV-rated product measures voltage up to 1,000 Volts.
Klein has instructed customers to stop using them immediately and reach out to the company for replacement instructions.
The testers were made in China and imported by Klein, which is based in Lincolnshire, IL. The products sold for $17 individually, and from $40 to $68 in kits.
The recall involves the below model numbers, all bearing date codes ending in H7.