Aluminum Shapes
On Saturday, May 16, Aluminum Shapes donated its second COVID-19 drive-through testing shelter in Camden County, New Jersey. 
The aluminum shelters are recyclable, retain the COVID-19 virus for the least amount of time of any building material, are easy to clean and disinfect, and provide a safe, sterile and secure place for hard-working healthcare workers to operate in. The shelters also use high-grade aluminum to ensure the structural rigidity of the lightweight materials. 
The new drive-through testing location is provided through a partnership with the Camden County Freeholders and Connor Strong & Buckelew and is located at 3100 Federal Street, across from Woodrow Wilson High School. 
"We saw the danger this virus posed and knew we could help," stated Solomon A. Rosenthal, Chief Executive Officer of Aluminum Shapes. "Our engineers, finishers, fabricators and other employees collaborated to design the shelters to support hospitals, municipalities and businesses that will need to establish remote testing facilities without exposing front-line healthcare professionals or individuals experiencing symptoms to potential carriers of the virus or the weather."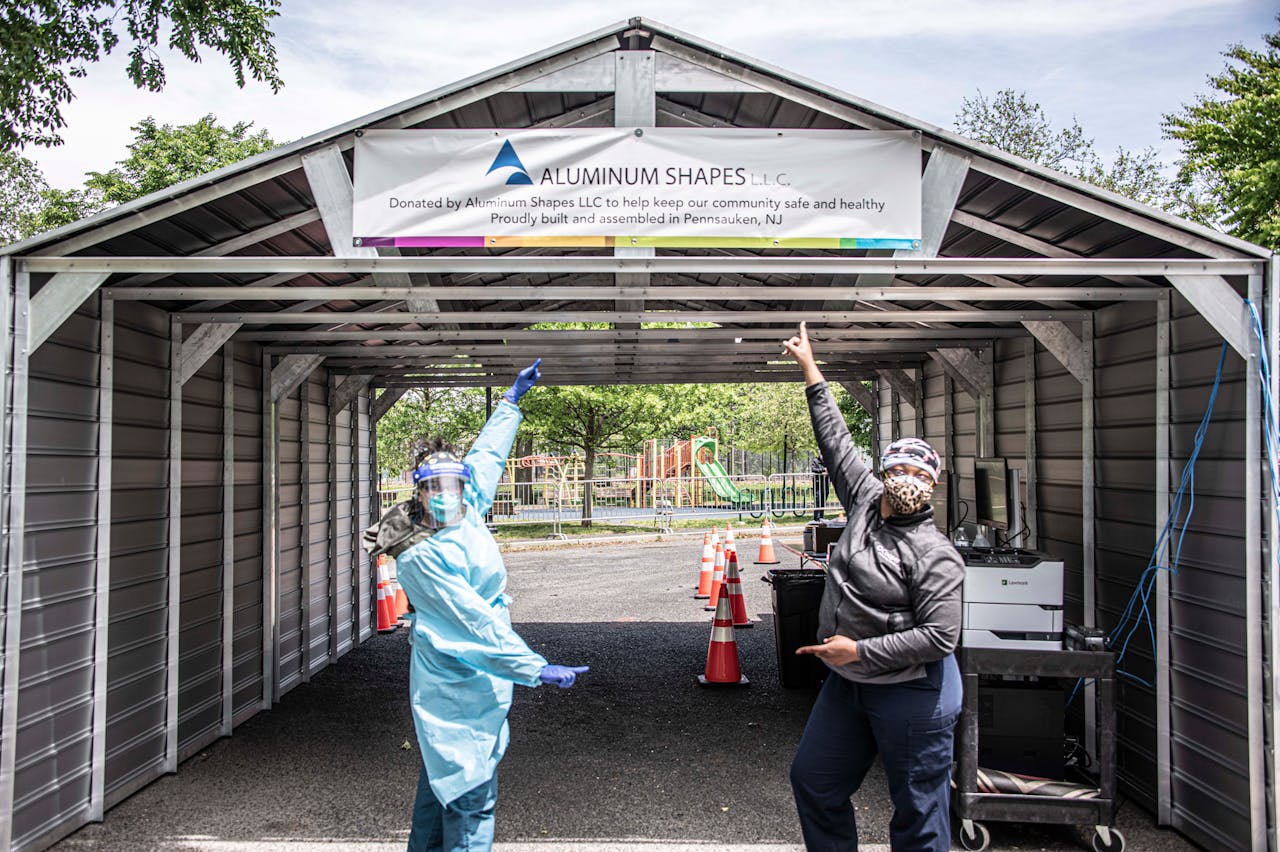 The aluminum shelters are recyclable, easy to clean and provide a safe, sterile and secure place for hard-working healthcare workers.Aluminum Shapes

Through the partnership with Conner Strong & Buckelew and The Camden County Freeholders, Aluminum Shapes is providing COVID-19 testing shelters to regional hospitals and businesses to use in their highest volume testing centers. The shelters replace the tents formerly used which were not weatherproof and were susceptible to damage from winds and storms. As the state looks for ways to safely reopen, there has been increasing demand for ways to administer testing safely. 
"As states make preparations to reopen sections of the economy, it is important that businesses play a key role in the preparations and ongoing path to recovery," stated George Norcross, of Conner Strong & Buckelew. "We are very proud of our partnership with Aluminum Shapes and its efforts to help with preventing the spread of the Coronavirus throughout the community." 
The semi-permanent aluminum structures are available in multiple dimensions and replace vinyl tents, which the Center for Disease Control and Prevention warns that coronaviruses can remain viable for hours to days on some surfaces. 
Aluminum Shapes is providing several shelters and drive through testing locations to local governments in hard-hit regions, and is renting the shelters at discounted rates to businesses assisting in the COVID-19 response nationwide. 
To learn more about Aluminum Shapes' COVID-19 shelters, or for additional information about the company, please email shelters@shapesllc.com.