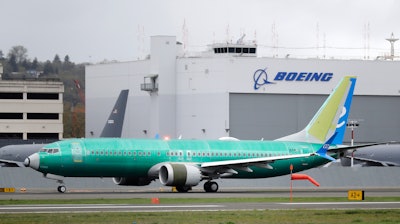 AP Photo/Ted S. Warren, File
Following two fatal crashes involving the company's 737 MAX jetliner, Boeing announced a set of internal changes on Monday that are aimed to strengthen its aircraft safety culture.
The largest of the actions — announced by Boeing chairman, president and CEO Dennis Mullenburg — is the formation of a new Product and Services Safety organization that will unify safety-related responsibilities currently managed by teams across several Boeing business and operating units. Boeing said the organization is responsible for reviewing all aspects of product safety, including investigating "cases of undue pressure and anonymous product and safety concerns raised by employees."
"Safety is at the core of who we are at Boeing, and the recent 737 MAX accidents will always weigh heavily on us. They have reminded us again of the importance of our work and have only intensified our commitment to continuously improve the safety of our products and services," Muilenburg said in the company's press release Monday. "My team and I embrace our board's recommendations and are taking immediate steps to implement them across the company in partnership with our people, while continuing and expanding our ongoing efforts to strengthen safety across Boeing and the broader aerospace industry. We thank our board and the committee members for their thorough work and ongoing support. Boeing is committed to always being at the forefront, proactively leading and advocating for continuous improvements in global aerospace safety."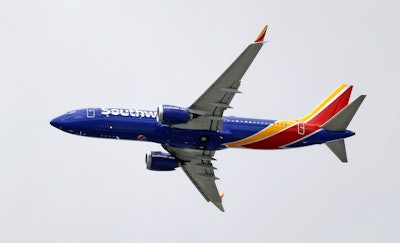 The new team will be led by vice president of product and services safety Beth Pasztor, who will oversee the company's Accidental Investigation Team and safety review boards. Pasztor is a 34-year Boeing veteran who previously served as VP of safety, security & compliance for Boeing Commercial Airplanes, where she was responsible for integrating product safety and regulatory compliance actions and initiatives. She will report jointly to the Boeing board of directors Aerospace Safety Committee and Greg Hyslop, the company's chief engineer and senior vice president of engineering, test & technology.
The actions come amid investigations about the design of Boeing's best-selling jet, the 737 MAX. In October 2018, an Ethiopian Airlines jet crashed shortly after takeoff, killing its 157 passengers and crew, and in March of this year, a Lion Air flight crashed in Indonesia, killing all 189 on board. Crash investigators of both incidents implicated flight control software Boeing added to the jetliners. As of now, the Federal Aviation Administration has no timeline of allowing the 737 MAX to fly again.
Boeing's Monday press releases stated the organization will bring together teams across Boeing — and external talent where needed — to elevate awareness and reporting of, and accountability for, safety issues within the company, further improving enterprise-wide product and services safety.
Boeing said it is also establishing a design requirements program aimed to bolster the company's culture of continuous improvement, learning and innovation. Furthermore, it is expanding a companywide use of a comprehensive safety management system and safety review boards to "standardize safety policy and objectives, share best practices, manage risk, assess performance, increase visibility and further strengthen the company's safety culture."