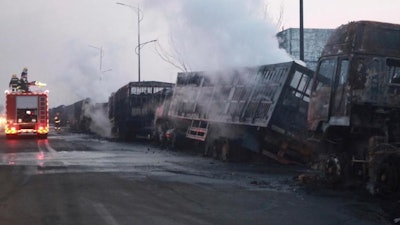 Xinhua via AP
A gas leak caused the blast at ChemChina subsidiary Hebei Shenghua Chemical Industry Co in northeastern China that killed 23.
The subsidiary produces PVC resins, caustic soda, hydrochloric acid, oxygen, chlorine, dissolved acetylene, coated kettle agent, water treatment chemicals and new building materials.
According to a statement from ChemChina, vinyl chloride leaked during production and caught fire.
According to a report from Reuters, the fire caused a chain explosion that burned trucks and buildings.
ChemChina has apologized for the accident and noted that it uncovered serious problems in the company's safety management systems.
Industrial safety is a major concern in China, where requirements for the storage and transport of chemicals and other dangerous products are often weakly enforced.