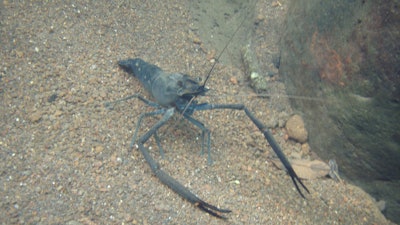 Hawaii Division of Aquatic Resources
HONOLULU (AP) — Hawaii officials are warning people to know the origin of the prawns they eat because waters could have been poisoned. The Department of Land and Natural Resources Division of Conservation and Resources Enforcement said it believes people have been dumping poison into Hawaii island streams to harvest Tahitian prawns. The practice is illegal and kills all other wildlife in the waterways, the Honolulu Star-Advertiser reported .
In one incident, a container of Ortho Bug B Gon insect killer is believed to have been emptied into a pool fed by Onomea Stream, located within Hawaii Tropical Botanical Garden along the Hamakua Coast. Conservation and Resources Enforcement officer Edwin Shishido said the division found an empty bottle of the insecticide on the stream bank and determined there were no Tahitian prawns in the stream. He said it looked as though "the poison killed everything."
"This was almost eight months ago, and now finally, with winter rains, some life appears to be slowly coming back," Shishido said in a news release.
Farther up the coast last fall, authorities came across a group of men carrying 50-pound bags of Tahitian prawns from the stream. Officials believe poison was used to quickly kill and harvest the prawns, also known as giant freshwater shrimp. Conservation and Resources Enforcement officials note it is not illegal to remove Tahitian prawns from Hawaii waterways. However, they said, it is a violation of state and federal law to introduce poison into a stream or river.
"We heard some people got sick after eating prawns killed in Onomea Stream," Shishido said. "We also believe that the people doing this sometimes set up alongside roadways to advertise and sell prawns caught in this manner. It's really important that buyers beware and know for certain where and how the prawns they're buying were caught."
Inspectors with the Division of Conservation and Resources Enforcement and the state Department of Agriculture took water samples to establish a baseline should further stream poisonings be suspected. And the apparent Onomea Stream poisoning led Hawaii Tropical Botanical Garden to add overnight security.