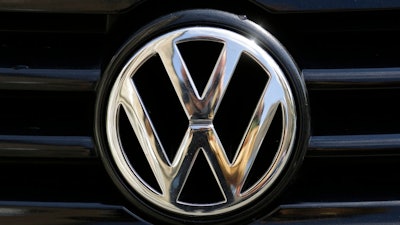 AP file
DETROIT (AP) — The U.S. government's highway safety agency is expanding three investigations for brake and air bag troubles that could affect more than 2.3 million vehicles from Ford, Volkswagen and Nissan.
The expansions by the National Highway Traffic Safety Administration were announced Monday and over the weekend on the agency's website after investigators found more consumer complaints about the problems:
— Ford Fusion, Mercury Milan, Lincoln MKZ: NHTSA has expanded a 2016 investigation to include just over 1 million vehicles. The probe now covers the 2006-2012 Ford Fusion and Lincoln MKZ as well as the 2006-2011 Mercury Milan. Investigators are looking into a total of 735 complaints to NHTSA and Ford that the brake pedal can travel farther toward the floor than expected, potentially increasing stopping distance. The agency now has reports of 30 crashes resulting in three injuries. Tests at NHTSA's Ohio laboratory found stuck valves and corrosion in the brake hydraulic control unit. Ford told the agency that newer versions have a different coating and aren't corroding.
— Eight Volkswagen models: The government is expanding an investigation into the 2015 recall of 416,000 Volkswagens to address driver air bags that failed to inflate. The probe now affects 1.2 million CC, Passat, Eos, Golf, GTI, Tiguan, Jetta and Jetta Sportwagen vehicles from the 2010-2014 model years. The agency and VW have received a total of 852 complaints that models outside the scope of the recall have the same problem, or the recall repair didn't work. In addition, VW has received almost 3,000 warranty claims. The recall was done to address failure of air bag wiring in the steering wheel.
— Nissan Murano: NHTSA is upgrading an investigation into brake problems with over 108,000 Nissan Murano SUVs from the 2009 model year. It's now an engineering analysis, which is a step closer to a recall. Last year the agency began investigating a problem similar to the Ford one in which the brake pedal traveled closer to the floor than expected. The agency says 484 consumers have complained to NHTSA or the company, including 14 who reported crashes with three injuries. NHTSA says it will test hydraulic brake control units at its lab. It says similar control units and brake fluid are used in other Nissan vehicles. Nissan maintains that the brake system remains intact and that full braking is available even if the pedals travel a longer distance, the agency said.
Nissan wouldn't say what other models could be affected. It has notified affected Murano owners that dealers will flush brake fluid and test anti-lock brake actuators and replace them if needed, at no cost to owners.