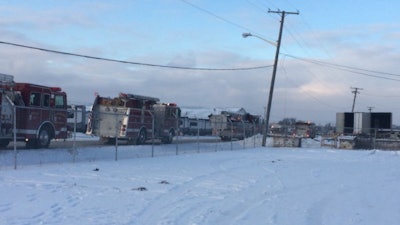 Twitter, Diane Daniels, @danielsWSBT
MIDDLEBURY, Ind. (AP) — Fire damaged a recreational vehicle factory in northern Indiana.
Firefighters from at least four departments were called Saturday to the Coachmen Industries plant in the Elkhart County town of Middlebury.
WSBT-TV reports the fire destroyed parts of the office and break room but that the production area of the factory wasn't damaged.
WNDU-TV reports fire crews were at the scene for more than two hours and that a cause for the fire wasn't immediately determined. No injuries were reported.
Coachmen officials didn't immediately return a telephone message Sunday seeking information about the fire's impact on the factory about 30 miles east of South Bend.