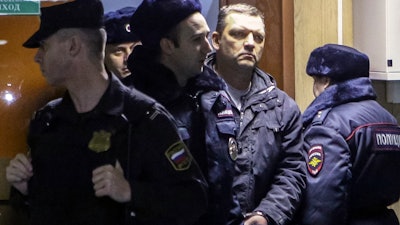 Andrey Nikerichev, Moscow News Agency photo via AP
MOSCOW (AP) — The former owner of a Russian candy factory has been ordered to remain in jail while the slaying of a plant security guard is under investigation.
Investigators said Ilya Averyanov argued with the factory's new owner and opened fire with a hunting rifle on Wednesday, killing the guard and wounding three other people.
Averyanov told a radio station before his arrest he was defending himself against a "gang" that had colluded with Moscow prosecutors to seize his property.
Averyanov told a court he didn't intend to kill anyone and pleaded to be put under house arrest. The court on Thursday instead ordered him jailed for two months.
Court filings show a bankruptcy hearing related to the Menshevik factory is scheduled for January in Moscow.