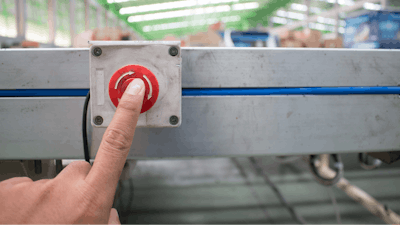 The Michigan Occupational Safety and Health Administration (MIOSHA) has issued citations with penalties totaling $263,000 to AJM Packaging for amputation hazards at its Taylor, MI, plant. The citations are the outcome of MIOSHA inspections of two reports of finger amputations on machines and an employee complaint alleging numerous safety hazards.
The citations against AJM Packaging include:
3 willful citations for not utilizing machine lockout procedures when employees perform adjustments and repairs, or clean the machines.
A willful citation for not providing employees with training on lockout procedures.
A repeat citation for not guarding pinch points on 11 machines.
A serious citation for not guarding gears, chains, and sprockets.
A serious citation for obstructing quick access to an emergency stop button.
AJM Packaging, headquartered in Bloomfield Hills, MI, has been the subject of an ongoing series of investigations by MIOSHA. The inspections stem from a pattern of violations that have resulted in an estimated 11 separate instances of finger and fingertip amputations by machines since 2012. Prior to the most recent inspections, the company's facilities in Detroit, Southgate, and Taylor have underwent 16 inspections resulting in 88 citations for violations of MIOSHA rules and regulations.
The initial proposed penalties for the violations totaled $895,350.
AJM Packaging's citations prompted MIOSHA to include the company in the Severe Violator Enforcement Program (SVEP). SVEP is a national program that focuses government resources on employers who demonstrate indifference to occupational safety and health regulations by committing willful, repeat, or failure-to-abate violations.
SVEP inspections result in mandatory follow-up inspections by MIOSHA of AJM plants in Michigan and referrals to the U.S. Occupational Safety and Health Administration (OSHA) for the company's plants in other states.
According to the OSHA website, AJM Packaging's sites in New Jersey, Missouri, Georgia, and California have received 21 inspections since 2008, 53 citations for violations of occupational safety and health regulations, and $423,944 in initial penalties. The violations in the other states mirror those found in Michigan — lack of machine guarding and not following proper procedures for machine lockout.
The company has 15 working days from receipt of the MIOSHA citations to comply or contest the violations and penalties.