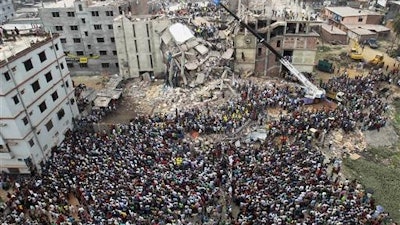 AP file
DHAKA, Bangladesh (AP) — Leading global fashion brands and trade unions have agreed to continue a safety program involving thousands of garment factories in Bangladesh for another three years.
Two Switzerland-based global trade unions — IndustriALL Global Union and UNI Global Union — and brand representatives announced the agreement after it was signed in Paris on Thursday.
The current five-year safety campaign expires next May.
Following the collapse of Rana Plaza, a building housing five garment factories, that killed more than 1,130 workers in 2013, global clothing companies joined the Bangladesh government in promising to improve safety standards.
Bangladesh has about 4,000 garment factories and earns about $25 billion a year from exports of garment products. Low wages in the South Asian country have attracted global apparel brands and retailers.