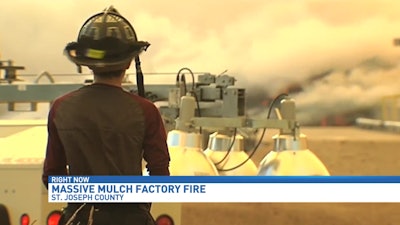 WWMT
24 fire departments are said to be involved in fighting a massive blaze at a mulch factory near Mottville, MI.
According to local news station WSBT-22, the fire – which broke out Monday afternoon – is now contained to an area of about 15 miles but could take more than a week to burn itself out.
The report says fire crews blame wind, dry weather and piles of recyclable material for the difficulty in containing it; firefighters even used planes to drop water from overhead.
A bystander told news station WWMT that the blaze "sounded like a propane tank going off," and observers said that, at one point, explosions could be heard as the flames overtook a maintenance building on site.
WWMT says one worker at the factory indicated it started because of a malfunction of the mulch fermentation process.