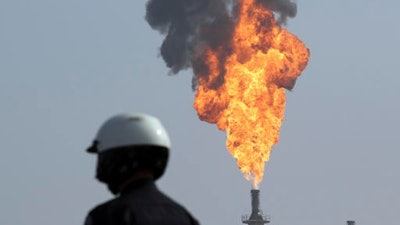 Chuck Bennett/Los Angeles Daily News via AP
TORRANCE, Calif. (AP) — An explosion and fire erupted Saturday at a California oil refinery, exactly two years after a blast that crippled the plant and led to higher gasoline prices, authorities said.
No injuries were reported from the Torrance Refining Co. near Los Angeles and there were no evacuations or damage to any buildings outside the refinery, Assistant Fire Chief Steve Treskes said.
Three dozen firefighters using heavy streams of water battled flames that rose 40 feet in the air, and the fire was knocked down in about 30 minutes, Treskes said.
"All safety systems at the refinery operated properly and all personnel are safe and accounted for," Betsy Brien, a spokeswoman for the refinery owner, New Jersey-based PBF Energy Inc., said in a statement.
There was no immediate word on damage or the cause of the blast.
However, most of the refinery continued to operate, Brien said.
The blast came on the anniversary of a Feb. 18, 2015, explosion that slightly injured four contractors, destroyed a large part of the refinery, rocked the neighboring community 20 miles southwest of Los Angeles and sent a fine white ash raining down on nearby homes and cars.
In fact, activists had planned a protest at the plant on Saturday to mark the incident and demand a ban on the use of a highly toxic and volatile chemical, modified hydrofluoric acid.
The 2015 explosion involved a pollution-control device called a precipitator. Federal regulators later concluded that the explosion could have been prevented if managers had taken into account aging safety equipment and shut down a key, spark-generating part of the refinery before attempting repairs elsewhere.
The blast tossed an 80,000-pound piece of equipment within feet of another unit where tens of thousands of pounds of modified hydrofluoric acid were stored in tanks.
The U.S. Chemical Safety and Hazard Investigation Board concluded that there was a potential to release a toxic cloud and cause "serious injury or death to many community members."
California regulators also fined ExxonMobil — then-owner of the refinery — more than $500,000 for safety violations.
Most of the refinery was shut down for more than a year, leading to a shortage of gas that meets California's stricter pollution regulations and higher prices at the pump.
Two other incidents were reported in the fall of 2015. One involved a leak of modified hydrofluoric acid and the other a leak in a pressurized pipe that created a large steam cloud. No injuries were reported.
The refinery sits on 750 acres and produces 1.8 billion gallons of gasoline a year, which accounts for about 8.3 percent of the state's total refining capacity.