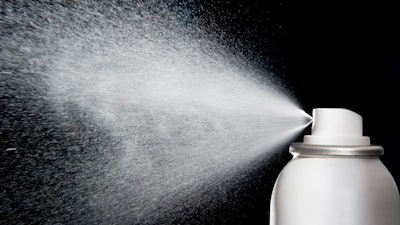 iStock
A June 2016 OSHA investigation found that a Massachusetts packaging company failed to inform the agency after a severe injury involving a gas head needle inflated an improperly-trained, temporary employee's arm.
Dudley, MA-based Shield Packaging is a custom contract packaging manufacturer that fills, packages and ships aerosol containers. On May 26, 2016, the worker was on a production line where a gas head injects chemicals into aerosol cans.
According to OSHA, the employee was cleaning a gas head when the production line unexpectedly turned on. A gas head needle pierced his finger and injected him with a propellant gas that inflated his arm.
The temporary worker was not only insufficiently trained, but company managers failed to call 911 or other emergency services personnel. The injured employee called 911, but he was taken in a private vehicle to a hospital for medical treatment before emergency services arrived.
"This delay in contacting and securing professional medical help exposed this worker and other employees to additional bodily harm or potential permanent and disabling injuries. At a minimum, Shield Packaging and other employers must have systems in place to ensure that 911 is called immediately after an employee suffers an injury that requires medical care to reduce the delay in receiving professional medical treatment," said Mary Hoye, OSHA's area director for central and western Massachusetts, in a press release.
The unnamed worker was hospitalized, and the agency requires notification within 24 hours of an employee's hospitalization.
The investigation also involved the two temporary staffing agencies that supply about 86 of the 140 workers at Shield Packaging: ASI Staffing and Southern Mass Staffing.
Throughout the course of the agency's inspection, OSHA identified several new and recurring hazards at the plant that exposed workers to lacerations, amputation, hearing loss, hazardous chemicals, crushing and struck-by injuries and being unable to exit the plant safely in the event of an emergency.
As a result, OSHA cited Shield Packaging for 17 violations with proposed penalties totaling $295,967.
The staffing agencies were also reprimanded for violations.
ASI Staffing was hit with two serious violations, both related to insufficient training, and may have to pay up to $24,942 in penalties.
Southern Mass Staffing also received two serious violations for insufficient training, but only received penalties to the sum of $17,460.
"Using temporary workers from staffing agencies does not exempt a host employer from its responsibility to comply with OSHA requirements. Nor are the staffing agencies exempt. Staffing agencies and host employers are jointly responsible for maintaining a safe work environment for temporary workers," added Hoye. "Employers must not use temporary workers as a way to avoid meeting all their compliance obligations under the Occupational Safety and Health Act and other worker protection laws"