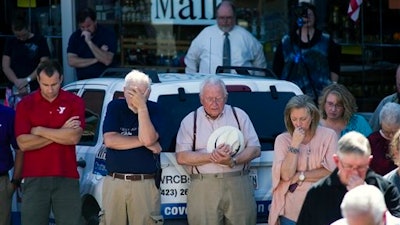 Paul Efird/Knoxville News Sentinel via AP
ATHENS, Tenn. (AP) — A man who fatally shot two supervisors and then killed himself at an electrical components plant in eastern Tennessee had a state-issued permit to carry handguns in public, law enforcement officials said Friday.
Ricky Swafford, who had worked at the Thomas & Betts plant a more than 15 years, walked out of a meeting with the supervisors and returned with a pistol, Tennessee Bureau of Investigation spokeswoman Susan Niland said. Swafford then shot supervisors Sandra Cooley and James Zotter before apparently turning the gun on himself in a restroom, she said.
"There are no appearances at this point that this was anything that was planned," Niland said. "He did have a meeting with his supervisors, and it was during that meeting that he apparently experienced some agitation."
Under a state law enacted in 2013, workers with carry permits are allowed to store firearms in vehicles parked at work regardless of their employers' wishes. Thomas & Betts manager Pat Joyce said the company has an employee policy concerning firearms, but he declined to elaborate.
Niland said Swafford had no apparent criminal record. She could not confirm whether he had retrieved the gun from his car.
"He came in and appears to have gone directly to the office where the two supervisors were and went directly to their location and that's when he commenced shooting them," Niland said.
Other employees either fled the building or locked themselves inside of rooms, Niland said.
The shooting was reported about 4:15 p.m. on Thursday. About 350 people work at the factory, roughly 55 miles northeast of Chattanooga.
Thomas & Betts is headquartered in suburban Memphis. It designs and makes electrical components for industrial, commercial, lighting and utility markets. Joyce said officials and workers with the company are "heartbroken" over the shootings.
"Yesterday, we lost colleagues in a senseless act of violence. We have absolutely no understanding of what motivated the perpetrator," he said. "We employ hard-working, talented, incredible, gifted people. We mourn as a community and as a community of co-workers."
The plant will remain closed until the company is ready to resume operations, and employees will be paid "during this time of grief," he said.