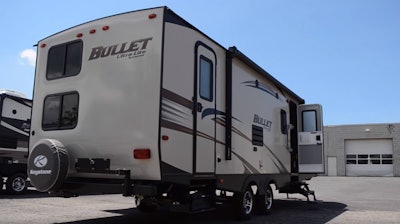 Colton RV, YouTube
DETROIT (AP) — Keystone RV Co. is recalling nearly 52,000 camping trailers because an improperly wired air conditioning thermostat could cause a fire.
The recall covers Bullet and Passport trailers from the 2011 to 2017 model years.
The company says in government documents that any damage to the wiring could cause an electrical short and a fire. The problem was reported by a dealer, and the documents do not mention any fires.
Keystone of Goshen, Indiana, will notify owners. Dealers will correct the wiring at the air conditioner control box free of charge. The company expects the recall to start this month.