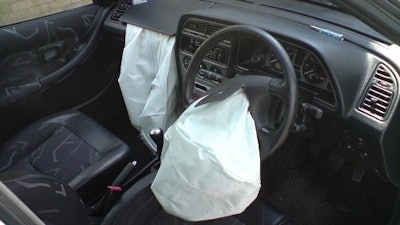 JACKSONVILLE, Fla. (AP) — The family of a Florida woman who became a quadriplegic after the deployment of an air bag in her car has reached an out-of-court settlement with the air bag's manufacturer.
Ted Leopold is an attorney for Patricia Mincey's family. He says the settlement with Takata Corp. was reached Friday, shortly before a pretrial hearing was to be scheduled to determine if Takata's chief would be compelled to testify.
Leopold says the terms of the settlement are confidential. Mincey died in April at age 77.
Takata has recalled defective inflators that can explode with too much force, sending shrapnel spewing.
The recalls, as of the latest count, are likely to tally more than 100 million inflators globally. Faulty air bags are responsible for 11 deaths and more than 100 injuries worldwide.