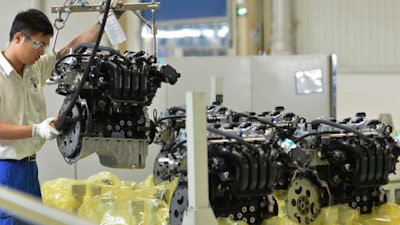 Chinatopix via AP
BEIJING (AP) — General Motors Co.'s main Chinese joint venture is recalling 2.2 million cars to deal with insufficient corrosion resistance on crankcase valves.
The recall was ordered after Shanghai-GM received complaints about engine damage, according to the country's product quality regulator. The automaker is a joint venture between GM and state-owned Shanghai Automotive Industries Corp.
The recall applies to Buick Excelle sedans and Chevrolet Cruzes, Epicas and Aveos. The product quality agency said GM will replace affected valves for free.
Sales by GM and its Chinese partners of GM-brand vehicles rose 5.2 percent last year to 3.6 million units.