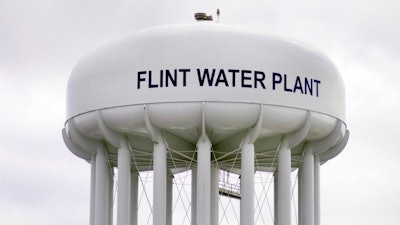 LindaParton
A University of Michigan-Flint professor said Monday that the city has more than 8,000 old lead pipes running from water mains to homes and businesses, an estimate the mayor plans to use in ultimately replacing all of the service lines.
Separately, Gov. Rick Snyder announced he would release more of his own emails along with thousands of his aides' emails related to Flint's water crisis, dating to when he took office in 2011.
Dr. Marty Kaufman's team analyzed Flint's hand-written records, paper maps, and scanned images to create a digital database of pipes in the city. State regulators failed to require Flint to treat river water with anti-corrosion chemicals when its water source was switched in 2014, allowing lead to be scraped from aging pipes and into drinking water.
The numbers and locations of lead service lines in Flint is significant because Mayor Karen Weaver, who appeared with Kaufman during a news conference at City Hall, wants them removed as quickly as possible, for $2,000 to $3,000 per pipe.
"People won't buy homes or even feel comfortable in our restaurants until every lead service line is removed," she said. "This is an important step toward returning confidence in government."
Kaufman stressed that while the project is a full compilation of available data, the records, which were compiled from a 1984 survey, do not always indicate the types of pipes used. His team identified 4,376 known lead service pipes and estimated 4,000-plus more based on an analysis of missing data.
Flint homes on average are 74 years old, he said, and more than 23,000 were built before 1950.
Snyder, whose administration is spending up to $500,000 for a Flint engineering company to help locate pipes, estimates there are at least 5,200 lead lines among 55,000 properties. About 25,000 are not lead while another 10,000 are unknown and will need to be individually inspected, according to Snyder's office. Another 15,000 connect to vacant properties.
He welcomed the university's database but also said the paper records on which the study is based "are not the most reliable," citing instances where lines were said to be lead but were not and vice versa.
"We want to take that work and overlay it to see how it overlays with the work that had previously been done," Snyder told reporters at the state's new Emergency Operations Center in Lansing, where he released the results of an initial round of lead tests at key Flint sites.
The Republican governor spoke the same day that Michigan's elections board approved a longshot petition to recall him from office for his handling of the city's crisis, which began when it changed its water source to save money while under state emergency financial management. To make the ballot, organizers must collect nearly 800,000 valid voter signatures within two months of starting their petition drive.
Later Monday, Snyder told The Detroit News editorial board that his office would make public executive office emails "relatively soon" once lawyers remove correspondence that would be exempt if his office were subject to the Freedom of Information Act.
Michigan is one of two states to wholly exempt the governor's office from public-records requests. Last month, Snyder — whose administration has been blamed for regulatory failures that caused the disaster — voluntarily released his own emails about Flint from 2014 and 2015. Democrats and open-government groups have pressured him to also disclose his office's emails from 2012 and 2013, when emergency managers he appointed to run the city considered and approved the water switch.
Snyder last week announced that Flint would receive $2 million to help with pipe replacement costs in the next month, intended as a reimbursement for what the city paid last fall toward reconnecting with Detroit's water system until a new pipeline to Lake Huron is built. He also is seeking $25 million from lawmakers to replace lines, potentially more once officials better determine how many pipes there are. Weaver wants $55 million.
Snyder said 89 percent of water samples collected from "sentinel" sites in Flint measured below the action level of 15 parts per billion for lead, but concerns remain. Eleven percent of 175 samples exceeded the actionable level, including five homes above 100 parts per billion of lead.
The data is being collected over a two-month period at the same sites every two weeks.
Utilities are required to show water from customers' taps does not exceed the action level in at least 90 percent of homes sampled.
Interim Michigan Department of Environmental Quality Director Keith Creagh said the sentinel results will be "one of the primary information sources" used to determine if water can be used again without filters.
Also Monday, U.S. Rep. Dan Kildee, a Michigan Democrat, for the second time led a congressional delegation to Flint.
"I'm here on behalf of the people that I represent who know they could be in Flint's place — because they too have older infrastructure," said House Democratic Whip Steny Hoyer of Maryland. "The message needs to be we need to invest and not be penny wise and pound foolish."