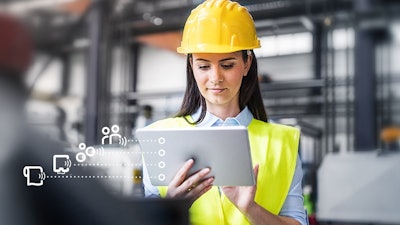 Digital solutions are enhancing the way manufacturers operate in many industries, as data-driven insights are helping manufacturers be more productive and use their resources more efficiently. Industry 4.0—or the realization of the digitalization of manufacturing—is allowing manufacturers to use data to improve workflows and performance, as well as help factories become less wasteful.
As this digital transformation continues to enable manufacturers to embrace new technologies and ensure operations are running as efficiently as possible, it is important to also look beyond the manufacturing floor and the production of goods. This digital transformation can also extend to the cleaning quality and efficiency within your facilities, that if not done correctly can cause disruptions and inefficiencies. Tork, an Essity brand, is introducing Tork Vision Cleaning, an enhanced data-driven cleaning solution to help facilities keep pace with Industry 4.0 in their cleaning operations. Depending on the needs and requirements of the facility, managers can choose between three-data driven cleaning offers. Each offer provides additional benefits and increasing business value to best address individual needs.
Improve Hygiene
Now more than ever, the importance of ensuring proper hygiene in a facility is evident. By improving hygiene, Tork Vision Cleaning supports a healthier work environment overall, which can help eliminate employee absences due to illness.
Tork Vision Cleaning empowers cleaning staff by using real-time data collected by people counters and connected dispensers to give cleaners and managers access to information regarding immediate cleaning needs. The system is designed to help ensure that there are no production hold-ups due to lack of hygiene products in restrooms, locker rooms and break rooms during shifts and shift changes, securing a reliable supply of hygiene products in a 24/7 environment.
In a survey of Tork Vision Cleaning customers, 100% of customers said data-driven cleaning helps them improve hygiene within their site, while 80% said they reduced complaints by using the Tork Vision Cleaning system.
Boost Efficiency
Manufacturing facilities can be large and complex, and facility managers need to understand the hygiene needs across multiple areas and shift changes in a 24/7 operation. Without the right data, it is extremely difficult for you to ensure the required level of cleaning needed. This could lead to over cleaning or under cleaning certain areas, as the information for optimized cleaning resources is limited or might add administrative burden to cleaning staff to ensure proper reporting.
By adopting digital solutions, those in charge of cleaning can use real-time data and reporting tools to understand when and where there are cleaning needs in a facility, allowing facility managers to improve and optimize cleaning resources and allocating resources to hygiene critical tasks.

According to data collected from existing Tork customers, switching to data-driven cleaning has helped them increase their operational efficiency, reduce refill waste as well as:
Ensure dispensers are stocked 99% of the time

Reduce dispenser checks by 91%, saving staff hundreds of hours each year

Save up to 20% of cleaning hours, freeing up valuable time to focus on more critical issues
Ultimate Flexibility
Tork Vision Cleaning includes everything managers need to make data-driven cleaning an integrated part of your operations:
Hardware in the form of people counters, gateways and the market's largest selection of Internet of Things (IoT) connected dispensers.

Facility management software that displays the collected real-time data on desktops, tablets or smart phones and facilitates easy reporting and other administrative tasks.

Onboarding and Success Program which includes installation, training, support and evaluation of the business value.
Also, Tork offers three data-driven offers and a tiered approach to Tork Vision Cleaning so that facility managers can customize the service based on the needs and requirements of individual facilities.
Request a Tork Vision Cleaning site demo and learn more about Tork Vision Cleaning here.