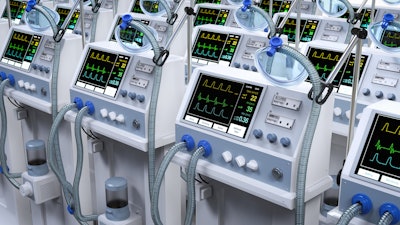 iStock
In June, Dutch medical equipment company Philips issued a recall for its ventilators, BiPAP and CPAP machines due to health risks. The polyester-based polyurethane sound abatement foam could break down, enter the air pathway, become toxic and possibly cause cancer.
The recall targeted between 3 million and 4 million machines and resulted in a total cost of over $579 million for Philips. The removal of the product from the market came when breathing assistance machines were more necessary than ever: the COVID-19 pandemic.
While medical device manufacturing is a complex process, there are avoidable pitfalls. Some experts, like Julie Orlando, believe certain manufacturers run the risk of overcomplicating the process, which she believes happened in the case of the Philips machines.
Orlando, president of medical device innovator Nanotronics Health and chief product officer at Nanotronics Imaging, feels an alternative approach could have saved all parties involved a great deal of time, money and stress.
"[Philips'] recall was due to cancerous causing materials in their gas pathway," Orlando said. "The result of having a design that's maybe overcomplicated causes issues for being able to resolve quickly and provide something and get it to people that need it."
Orlando emphasized Nanotronics' goal to eliminate a complex global supply chain. The solution came in the form of simplifying a device that serves a similar medical purpose to the ones that Philips produced.
Nanotronics Health manufactures the nHale, a cost-effective, single-patient, reusable device that enables clinicians to follow medical protocol for non-invasive ventilation. The clear user interface facilitates respiratory therapy for patients suffering from COVID-19 in private homes and traditional healthcare facilities.
Orlando discussed the design process in which Nanotronics Health conversed with local physicians to understand the minimum requirements needed for the therapy. Nanotronics Health used readily available components built with speed and optimization in mind to avoid reliance on complex global supply chains.
"Those are the types of things that we think about when we're trying to do something quickly. Within 90 days of that, we conceptualized, designed, manufactured and submitted and received our emergency use authorization from the FDA. So there's something to speed and simplicity of design, keeping parts low-cost and something simple."
When Philips announced the recall, it caused a disruption getting CPAPs, bi-levels and ventilators to customers because the company could not supply any more devices that had been recalled. All of this coincided with the pandemic, global supply chain issues and outsourcing manufacturing.
The consequences of all these factors led to a struggle for those who service patients and those relying on the recalled machines.
"They're struggling to get their allocation of order that they need to service their patients," Orlando said. "Of course, the patients that are on these devices are nervous because they may be directed, due to their disease state, that they need to maintain usage of their device even though there's a recall on it. At the same time, if they'd like to purchase another device, they're not readily available."
Orlando offered possible substitutes to outsourcing, all of which revolved around simplicity. They include vertically integrating where possible and simplifying device design, which can make the manufacturing process more manageable in general.
Stressing a method where designers optimize simplicity, Orlando added companies should make sure devices meet minimum requirements. This can help when an unforeseen issue, such as a pandemic, limits a company's ability to respond to problems.
"What we've done for the last 10 years is recommend that by having this unhindered reliance on supply chain, that you can build more and innovate quicker and you can manufacture things at a pace that should make things easier for the future," Orlando said. "I think it's a combination of getting creative on re-architecting or engineering products to integrate more readily available components and think about that for the long term, and simplifying for the ability to maintain if things come up where you have to scale rapidly."
Cost and lack of in-house expertise can lead to companies outsourcing, according to Orlando. But she did not write off outsourcing as a whole and outlined a situation in which it would make sense.
The scenario involved one where a company outsources manufacturing to a country that is purchasing an abundance of its product.
"If it is necessary to outsource beyond distributing and manufacturing in that way, then it's important to consider what are those components, what is the reliance and if you did need to bring it in-house, do you have the expertise to do that? For the most part, it's nice to have vertical integration for all of your critical components in the product."
NBC News reported Philips spokesperson Steve Klink saying about 80% of affected devices were CPAP machines. The remaining 20% were ventilators.
The company advised users of CPAP machines to stop usage and instructed doctors and patients using life-sustaining ventilators to consider if the potential danger from the foam outweighs other risks.
In September, Philips provided an update stating it received authorization from the FDA for the rework of the affected first-generation DreamStation CPAP devices. It also began replacing the machines with newer versions.
Philips said it expects to finish the repair and replacement programs in approximately one year.
"I think being smarter in regard to how you manufacture can be really important," Orlando said. "Equip yourself with tools and have a combination of manual and automated inspections and processes that you have a tight control on that are easy to scale. When you need to add more people or increase the number of shifts you're running, that's something that's already been planned for."