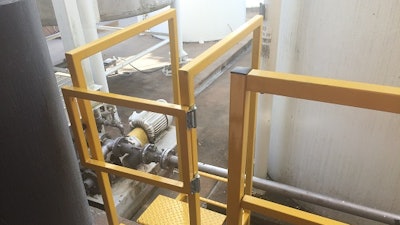 Univar is a global chemical distribution company and, with over 8,000 employees worldwide, they take safety seriously. In fact, Univar believes that safety, health and the environment come first.
When Univar's Carencro, LA location needed to install new safety measures around its outdoor areas, the company turned to Gulf Coast Material Handling for help. Gulf Coast Material Handling teamed up with Cubic Designs' Safety Product Group to address the following objectives:
Improve safety around loading docks.
Create ladders that accommodate pipes and meet code.
Install handrail for fall protection along elevated outdoor area.
Improve Safety, Maintain Workflow
With 14 loading docks, Univar needed a solution that would protect employees from falls but also allow easy access when the docks are in use. Additionally, they needed two ladders that would be able to accommodate existing pipes while remaining code compliant.
Cubic Designs' professional engineers adjusted the design of standard handrail so that it could be easily removed from the loading docks. They also added pockets to hold the removed section of railing in order to maintain the organization and avoid chaos when multiple trucks were at the docks. In order to accommodate existing pipes and meet code, Cubic Designs created two custom extended ladders with stair safety gates. Additionally, a custom swing gate was created for the outdoor solvent tank area.
Cubic Designs and Gulf Coast Material Handling were able to deliver this project on time and on budget. The 360 linear feet of rail with 14 removable panels, 2 custom ladder and a custom swing gate improved the overall safety of the facility without impeding workflow.
For more information, visit www.cubicdesigns.com.