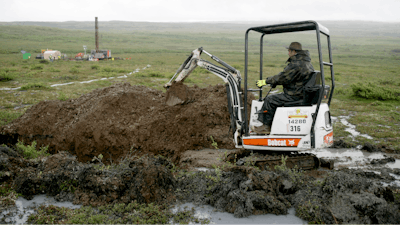 AP Photo/Al Grillo, File
ANCHORAGE, Alaska (AP) — The nation's top environmental official said he fully supports his agency's decision to block a proposed gold and copper mine in Alaska's salmon-rich Bristol Bay, even as the state of Alaska has asked the U.S. Supreme Court to overturn that action.
"Let me be clear, we are very proud of our decision to really evaluate the Pebble Mine project and do what is necessary to protect Bristol Bay," Environmental Protection Agency Administrator Michael Regan said in a telephone interview with The Associated Press on Tuesday as he began a four-day tour of Alaska, starting in a Bristol Bay village.
The EPA in January vetoed the proposed Pebble Mine, citing concerns with possible impacts on the aquatic ecosystem in southwest Alaska that supports the world's largest sockeye salmon fishery. The region also has significant mineral resources.
Last month, the state of Alaska asked the nation's high court to intervene.
"The EPA's order strikes at the heart of Alaska's sovereignty, depriving the State of its power to regulate its lands and waters," according to the court filing.
The EPA and the Department of Justice are reviewing the complaint and have until late next month to file an optional response, Regan said.,
Regan's first stop will be in the Bristol Bay village of Igiugig, located about 250 miles (402 kilometers) southwest of Anchorage, where Lake Iliamna feeds the Kvichak River. The village's 68 residents comprised mostly of Indigenous people lead a subsistence lifestyle, relying mostly on salmon.
Regan planned to talk to tribal leaders about solid waste management issues and energy generation, but also "to highlight the significance of our decision around Pebble Mine, to protect the bay for environmental and cultural, spiritual and sustenance reasoning."
When asked if there are other actions EPA could or should take to block the mine if the state were to prevail, he said their process is to follow the science and law on a project-by-project basis, the way the agency evaluated the Pebble Mine proposal.
"I feel really good about the decision we made," he said.
Canada-based Northern Dynasty Minerals Ltd. owns the Pebble Limited Partnership, which has pursued the mine. As proposed, the project called for a mining rate of up to 73 million tons a year.
Regan planned to discuss environmental justice concerns, climate change, subsistence food security, water infrastructure and pollution from contaminated lands conveyed through the Alaska Native Claims Settlement Act during his first visit to the nation's largest state.
Discussions will also include how the EPA might help support community projects with money provided with the so-called Inflation Reduction Act, or the climate and health care bill passed last year.
Other stops will be in Utqiagvik, the nation's northernmost community formerly known as Barrow; Fairbanks; Anchorage, and the Native Village of Eklutna, located just north of the state's largest city.
Alaska became the fourth stop on what is billed as Regan's "Journey to Justice" tour to learn how pollution has affected people. Previously, visits were made to Puerto Rico; McDowell County, West Virginia, and one that included stops in Mississippi, Louisiana, and Texas.
Regan is not the only Biden administration official set to visit. U.S. Secretary of Housing and Urban Development Marcia Fudge will address housing needs in Alaska later this week.
Other administration officials who have visited this summer include U.S. Attorney General Merrick Garland and U.S. Transportation Secretary Pete Buttigieg.