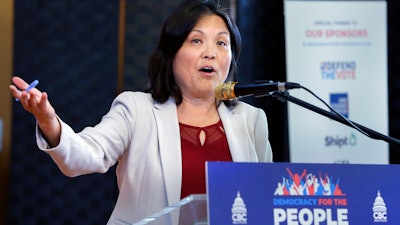 AP Photo/Michael Wyke, File
NEW YORK (AP) — The Biden administration proposed a new rule Wednesday that would make 3.6 million more U.S. workers eligible for overtime pay, the most generous such increase in decades.
The rule revives an Obama-era effort that faced pushback from business leaders and Republicans and was ultimately scuttled in court. Business groups, labor advocates and liberal lawmakers have pushed the Biden administration to take the fight back up, arguing that overtime protections have been sharply eroded over the decades by wage stagnation and inflation.
The proposed regulation, unveiled by the Department of Labor, would require employers to pay overtime to salaried workers who are in executive, administrative and professional roles but make less than $1,059 a week, or $55,068 a year for full-time employees. That salary threshold is up from $35,568 level that has been in place since 2019 when the Trump administration raised it from $23,660, in a more modest increase than President Barack Obama's earlier proposal.
The rule, which is subject to a public commentary period and wouldn't take effect for months, would have the biggest impact on retail, food, hospitality, manufacturing and other industries where many managerial employees meet the new threshold.
"I've heard from workers again and again about working long hours, for no extra pay, all while earning low salaries that don't come anywhere close to compensating them for their sacrifices," acting Secretary of Labor Julie Su said in a statement.
Under the Fair Labor Standards Act, almost all U.S. hourly workers are entitled to overtime pay after 40 hours a week, at no less than time-and-half their regular rates. But salaried workers who perform executive, administrative or professional roles are exempt from that requirement unless they earn below a certain level.
The left-leaning Economic Policy Institute has estimated that about 15% of full-time salaried workers are entitled to overtime pay under the Trump-era policy. The new rule would almost double that to nearly 30%, according to Labor Department figures.
That's still fewer than the more than 60% of salaried workers who were entitled to overtime pay in the 1970s, according to the institute. The overtime rule has been sporadically updated over the past decades, with the Trump increase being the first since 2004. The Labor Department's new rule attempts to change that pattern by adopting automatic increases to the salary threshold every three years.
Business leaders quickly criticized the new rule, saying it would add to labor challenges and saddle companies with new costs as they grapple with higher interest rates, inflation and economic uncertainty.
"The DOL's proposed rule would inject new regulatory burdens and compliance costs to an industry already reeling from workforce shortages and an onslaught of other unbalanced regulations," said Chris Netram, managing vice president of the National Association of Manufacturers.
David French, senior vice president of government relations of the National Retail Federation, said the automatic increases proposed in the rule ties the hands of future administration and exceeds the authority of the Labor Department.
The rule is less generous than the Obama-era regulation, which would have lifted the threshold to more than $47,000. It also falls short of the demands of some liberal lawmakers and unions for an even higher salary threshold than the proposed $55,068.
But labor advocates praised the rule as positive step.
"It's decades overdue, and it's a really important step," said Economic Policy Institute President Heidi Shierholz, who was the chief economist at the Labor Department when the Obama administration tried to enact its overtime rule.
AFL-CIO President Liz Shuler called the measure a "victory for the working people." She said employers that don't want to pay overtime "instead could take the high road and hire additional staff or promote workers from part-time to full-time status."
The new rule would extend overtime eligibility to some 300,000 more manufacturing workers and a similar number of retail workers. Some 180,000 hospitality and leisure workers and 600,000 health and social service workers would also be newly covered.
Under the rule, 27% of salaried workers would be entitled to overtime pay because they make less than the threshold, according to the Labor Department. A smaller number of workers would become newly eligible because of a change to a rule that excludes the highest paid salaried workers from overtime benefits even if they don't perform administrative, professional or executive duties. The Labor Department proposed raising that salary threshold from $107,432 to $143,988.
In its proposal, the Labor Department said it tried to find a balance that would address one of the concerns raised in legal challenges to the Obama-era policy: that the threshold was so high that it sidelined the so-called "duties" test, which determines whether salaried workers are entitled to overtime pay based on the work they perform.