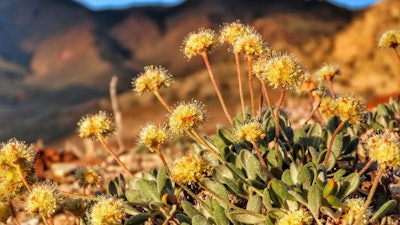 Patrick Donnelly/Center for Biological Diversity via AP, File
RENO, Nev. (AP) — The U.S. Department of Energy announced a conditional loan of $700 million Friday to an Australian mining company to pursue a lithium project still facing environmental hurdles in Nevada as the U.S. seeks domestic supplies for a key component in electric vehicle batteries.
The move ups the ante in what's already a high-stakes battle over President Joe Biden's energy agenda and conservationists fighting to protect an endangered wildflower found only at the proposed mine site on a high desert ridge halfway between Reno and Las Vegas.
Ioneer Ltd. has hoped to begin mining at Rhyolite Ridge by 2026 in Esmerelda County. The Energy announcement said the site could produce enough lithium to support production of about 370,000 electric vehicles annually for decades.
The loan would be the latest project to demonstrate the Biden administration's commitment to strengthen the nation's battery supply chain, electrify the transportation sector and cut reliance on fossil fuels and foreign supplies of raw materials, the Department of Energy said.
Jigar Shah, director of DOE's Loans Programs Office, said his office is "excited to further develop an environmentally responsible U.S. supply chain for critical materials."
"Rhyolite Ridge is a major step towards bolstering domestic lithium production for clean energy technologies," he said.
James Calaway, executive chairman of Ioneer, said the conditional commitment "highlights the project's strategic role in strengthening the nation's critical mineral supply chain in providing a secure, sustainable and reliable domestic source of lithium for the growing vehicle ecosystem." Bernard Rowe, Ioneer's managing director, said it came after 23 months "of discussion and due diligence" by Energy and "represents a significant milestone" for the project.
But the project still faces a significant legal and regulatory challenge in developing a mining operations plan that will provide adequate protection for the endangered Nevada wildflower, Tiehm's buckwheat.
The U.S. Fish and Wildlife Service said in declaring it endangered last year that it is on the brink of extinction and the mining project posed the single biggest threat to its survival.
Conservationists have sued in the past to protect the 6-inch-tall plant with yellow blooms and vowed on Friday to do so again if necessary.
"What this looks like is a fairly transparent effort by the Biden administration to build political and economic momentum for the project in an effort to steamroll the U.S. Fish and Wildlife Service and the Endangered Species Act," said Patrick Donnelly, Great Basin director for the Center for Biological Diversity.
"Ioneer is going to have to completely overhaul the design of this mine if they expect to pass through permitting," he said in an email to The Associated Press. "We've sued or initiated lawsuits over Tiehm's buckwheat four times already, and we won't back down until every buckwheat is saved."
The Energy Department announcement said the Ioneer project is working to minimize impact on the plant. It said the loan is contingent on completion of an environmental impact statement in accordance with the National Environmental Policy Act (NEPA).
The Biden administration has made a plan for half a million charging stations for electric vehicles a signature piece of its infrastructure goals. That effort, and the growth of electric vehicle companies such as Tesla, will require much more lithium to make batteries.
Although lithium reserves are distributed widely across the globe, the U.S. is home to just one active lithium mine, in Nevada. Worldwide demand for lithium was about 350,000 tons (317,517 metric tons) in 2020, but industry estimates project demand will be up to six times greater by 2030.
Shah said large projects like this go forward step by step.
"We clearly are not committing any capital to the project yet," Shah said Friday in a telephone interview with AP. "They still have to meet the conditions. But by doing this, it gives their equity investors some comfort that they should continue to invest in the project."
Sen. Jacky Rosen, D-Nev., is among those backing the project.
"I applaud the Energy Department for providing this loan to help support the mining and processing of Nevada's critical minerals, help reduce greenhouse gas emissions, and contribute to the creation of jobs in our state," she said in a statement.
Lithium is fundamental to the battery technology that is most common in electric vehicles and battery electric storage systems. But many engineers are working on alternative battery chemistries because lithium involves rock mining, which means major disturbance to the environment.
Ioneer is a lithium focused company based in New South Wales, Australia and Reno.
Another new lithium mining project in development in the U.S. is proposed for Thacker Pass by Lithium Americas near the Oregon line. That northern Nevada mine would make millions of tons of lithium available, but it too faces legal challenges. Native American tribes have argued that it's located on sacred lands near where dozens of their ancestors were massacred in 1865.