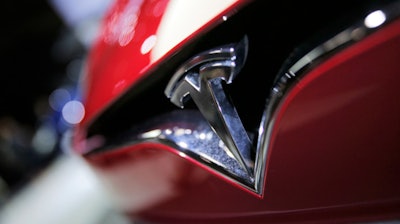 TORONTO (AP) — Electric car maker Tesla Motors said Thursday it is suing Ontario's new government, claiming it was treated unfairly in the cancellation of a program providing rebates to residents who bought electric vehicles.
Tesla Motors Canada said in court documents that the decision by Premier Doug Ford's conservative government to cancel the program in July left hundreds of customers ineligible for rebates they expected to get when they ordered their vehicles.
It claims Tesla was singled out. In July, the government said the rebates would be honored for vehicles ordered through a dealership if they are delivered and registered by Sept. 10, but Tesla sells vehicles directly to customers rather than through a dealership.
"The decision has already inflicted substantial harm on Tesla Canada in the form of lost sales and the creation of an impression among Ontarians that Tesla Canada may be singled out for future arbitrary treatment under the law," the company's statement said.
The Ontario Transportation Ministry said Thursday that it would not comment on the situation because the matter is before the court.
Customers who have been waiting for Tesla Model 3 cars to be delivered say the Ontario government's move has them rethinking their purchase.
Toronto teacher Kurtis Evans said he was planning to sell his current vehicle — and was counting on receiving the maximum rebate of 14,000 Canadian dollars ($10,068) to be able to afford the Tesla he ordered in June for 71,000 Canadian dollars ($60,000).
"My wife and I are still not sure if we are going to take delivery without the rebate ... we are not millionaires," he said, adding that he fears losing a non-refundable deposit if he cancels the order.