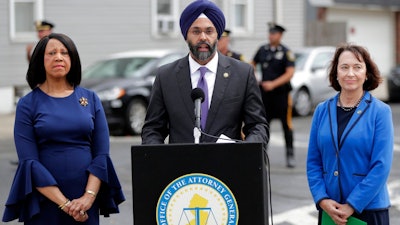 AP Photo/Julio Cortez
NEWARK, N.J. (AP) — State officials on Wednesday announced a new crackdown on polluters, saying that enforcement was "back in business" after a near-decade-long hiatus and launching six new lawsuits to recover damages and costs.
Attorney General Gurbir Grewal alongside Environmental Protection Commissioner Catherine McCabe and Acting Gov. Sheila Oliver announced the new lawsuits near the site of a former lighter plant that leached harmful vapors into homes in Newark, the state's biggest city.
Grewal said it's the largest single-day action the state has taken in at least a decade and the first new natural resources damages case since 2008. He seemed to take aim at Republican former Gov. Chris Christie's administration for failing to pursue such cases but did not mention the two-term governor by name.
"These cases and this tool were all but ignored," Grewal said. "Today, folks, we are back in business."
Christie left office this year when Democrat Phil Murphy, who was out of the state on Wednesday, took over. Grewal said Christie's administration didn't pursue new natural resources damages cases and said he couldn't say why, though the former governor did reach one of the biggest such settlements with Exxon Mobil for $225 million.
The new administration's decision reflects one of the results of the change in administrations and was welcomed by environmental groups, which applauded the lawsuits.
"For the first time in a decade, they're putting some force back into enforcement," New Jersey Sierra Club director Jeff Tittel said.
Aside from the legal challenges, McCabe said the event marked a change in approach to handling polluters in New Jersey, which has a decades-long history of industrial innovation but also environmental contamination and has more Superfund sites than any other state.
"Message: If you make a mess, clean it up," McCabe said.
The six lawsuits span the state and include urban and rural areas.
In three cases the state is trying to recover costs and in the other three it's seeking financial damages. The latter three sites are at the Pohatcong Valley Superfund site, the Port Reading refinery in Woodbridge and Deull Fuel site in Atlantic City.
The cost recovery sites are at the Ronson Metals cigarette lighter facility in Newark, Ruggiero Seafood Inc., also in Newark, and a Mobil gas station in Woodbridge.
Grewal said he didn't have an estimate for what the state might recover financially but said the cases could take a long time to prosecute.
The residents who live on the site of the former lighter factory have had their homes remediated by the Department of Environmental Protection, Grewal said. Ronson Metals Corp., which operated the factory, has since closed.
Messages seeking responses from the companies named by the state and the U.S. Environmental Protection Agency, which oversees the Pohatcong Superfund site, were not immediately answered.
Christie had hailed the $225 million Exxon Mobil deal as the largest settlement of its kind in state history and pointed to it as a sign his administration was "aggressively litigating against polluters."
Court documents showed the state initially sought about $8.9 billion in damages, a figure Exxon vigorously contested. Exxon, based in Irving, Texas, accused the DEP of using faulty methodology and unsubstantiated claims to arrive at the number and urged a judge to award no more than $3 million in damages.