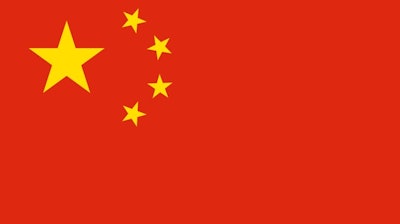 BEIJING (AP) — China appealed to other governments Friday to reject "trade and investment protectionism" after Washington raised steel tariffs and said it will impose curbs on Chinese investment.
The appeal came ahead of planned weekend talks with Commerce Secretary Wilbur Ross on U.S. pressure to narrow China's multibillion-dollar trade surplus with the United States.
The tariffs announced Thursday on steel from Canada, Mexico and Europe have no effect on China. But Beijing has said it reserves the right to retaliate if Washington goes ahead with a threatened tariff hike on other Chinese goods.
"All countries, especially the major economies, should firmly oppose trade and investment protectionism in any form," said a foreign ministry spokeswoman, Hua Chunying.
This week, the White House renewed a threat to impose an additional 25 percent tariff on Chinese high-tech goods in response to complaints Beijing steals or pressures companies to hand over technology. The Trump administration also said it would impose curbs on Chinese investment and purchases of U.S. technology, as well as visas for Chinese students.
The talks with Ross focus on China's May 19 promise to narrow its politically volatile trade surplus with the United States, which reached a record $375.2 billion last year. Ross is expected to seek a firmer commitment to buy more American farm goods, energy and other products and services.
The U.S. government has said a team of commerce, treasury and agriculture officials were in Beijing to make preparations.
Hua referred questions about the status of the talks to the Commerce Ministry, which did not immediately respond to requests for information.
"The door for negotiation and discussion remains open," Hua said. "We believe that regarding problems in the China-U.S. trade and economic relations, the two countries should work out a win-win and mutually beneficial resolution through dialogue and discussion with sincerity and in the spirit of equality and mutual respect."
Beijing has portrayed itself as a defender of free trade, despite China's status as the most closed major economy, in response to Trump's support for import controls.
Earlier, China responded to Trump's tariff threat by saying if it went ahead, Beijing would retaliate by raising import duties on a $50 billion list of American goods including soybeans and small aircraft.
Trade analysts warned Ross's hand might be weakened by Thursday's tariff hike on imports from potential allies that share Washington's complaints about Chinese technology policy and flood of low-priced exports.