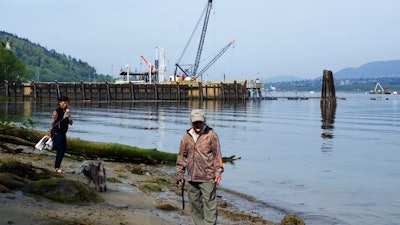 AP Photo/Jeremy Hainsworth
VANCOUVER, British Columbia (AP) — A pipeline project that would vastly expand Canadian oil exports to Asia is dividing the country, pitting indigenous groups and people who fear damage to the scenic coastline near Vancouver against the central government and the influential energy industry.
The Trans Mountain pipeline expansion would triple the capacity of an existing pipeline to ship oil extracted from the inky black tar sands north of Alberta across the snow-capped peaks of the Canadian Rockies. It would end at a terminal outside Vancouver, resulting in a seven-fold increase in the number of tankers in an environmentally sensitive area dependent on tourism and fishing.
"It just boggles my mind that people are willing to risk Vancouver to a catastrophic oil spill," said Stewart Phillip, the grand chief of the Union of British Columbia Indian Chiefs, which represents 115 aboriginal groups that oppose the expansion.
Many indigenous people see the 620 miles (1,000 kilometer) of new pipeline as a threat to their land, echoing concerns raised by Native Americans about the Keystone XL project in the U.S. Many in Canada say it also raises broader environmental concerns by enabling increased development of the carbon-heavy tar sands.
The project also has strong support in a country where energy production has become a key part of the economy. Prime Minister Justin Trudeau's government approved the expansion, arguing that it was "economically necessary" and enabled him to overcome opposition to a carbon tax plan that will help Canada cut its greenhouse emissions.
"This pipeline is the single most important economic opportunity that Canada will have in the foreseeable future," said Jason Kenney, the leader of Alberta's conservative party.
Facing legal challenges filed by the government of British Columbia, the company that would build the pipeline, U.S.-based Kinder Morgan Inc. halted essential spending on the project last month and said it would cancel it altogether if Ottawa and British Columbia could not ensure they would be able to go forward.
Those who make an economic case for the project point out that Canada has the world's third largest oil reserves but is overwhelmingly dependent on refiners in the U.S., where a barrel of Canada's heavy oil is sold at a discount of between $15 and $30 per barrel.
Canada wants to diversify oil exports to Asia where oil commands a higher price. The discount means billions less in revenue for Canadian governments.
"If we had access to global markets through a coastal pipeline we would be generating $40 million more in wealth for the Canadian economy every day," Kenney said.
The project has pitted Alberta against coastal British Columbia where concerns about fisheries, real estate values, tourism and ocean ecology are high. Vancouver Mayor Gregor Robertson calls the pipeline an "unacceptable risk" that threatens 10,000 jobs in the harbor.
"How can it be in Canada's interest if it runs completely counter to British Columbia's interest?" said George Heyman, the environment minister for the province.
The Trans Mountain expansion is projected to lead to a tanker traffic balloon from about 60 to more than 400 vessels annually as the pipeline flow increases from 300,000 to 890,000 barrels per day.
Some fear greater damage than that caused by a 2007 pipeline rupture in the Vancouver suburb of Burnaby. An excavator hit the existing Trans Mountain pipeline, spewing 224,000 liters of crude oil, which coated nearby homes and seeped into the harbor.
Critics dislike the whole concept of the oil sands because extracting the oil requires huge amounts of energy and water, increases greenhouse gas emissions by 10 percent in Canada and threatens oceans, rivers with spills and forests with massive open pit mines.
With the May 31 deadline looming, aboriginal leaders and environmentalists have pledged to do whatever necessary to thwart it including chaining themselves to construction equipment.
"You're going to see a very dramatic fight," said Phillip, the Grand Chief.
Phillip has threatened an "Oka-like" standoff. The "Oka crisis" involved a violent confrontation and two month standoff between the indigenous in Quebec and the Canadian military in 1990.
"I hope it doesn't come to that. I guess the coming months will tell," Heyman said.
More than 200 people, including two members of Parliament, have been arrested already at Kinder Morgan's oil tanker and terminal site in Burnaby.
"They have to lay 1,000 kilometers of pipeline through hostile territory," said Kennedy Stewart, one of the Parliament members arrested. "The federal natural resource minister said he would use defense forces and police forces to force this through. You can't do that. This is just ludicrous."
The British Columbia government is seeking a court opinion on whether or not it has the right to require companies to obtain licenses to ship oil across its province. In response, Alberta threatened to cut off oil exports to greater Vancouver.
Kinder Morgan CEO Steve Kean has said the political atmosphere has only grown worse since he first threatened to walk away from it last month.
Trudeau has offered to financially support the pipeline. "You have heard the prime minister say this pipeline will be built. That is the position of the government of Canada," Federal Natural Resource Minister Jim Carr said.
If it's not built Trudeau will look weak, said Ujjal Dosanjh, a former member of Parliament from Trudeau's party.
"It will cost him if a perception that he's not a strong leader takes hold," Dosanjh said.
The situation also could risk Canada's reputation as a place to do business.
Wenran Jiang, president of the Canada-China Energy & Environment Forum, said China is eager to get access to Canada's oil but has largely given up hope that a pipeline to the Pacific coast will be built.
"Their conclusion is that Canadians can't get anything done," he said.