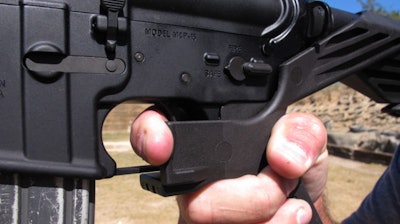 AP Photo/Allen G. Breed, File
HARTFORD, Conn. (AP) — Gov. Dannel P. Malloy said Tuesday he will sign newly passed legislation that bans devices enabling guns to fire like automatic weapons.
"I have yet to hear one legitimate reason why anyone needs to own a device that can fire 90 bullets every 10 seconds," said the Democrat, shortly after the state Senate approved the bump stock legislation by a vote of 26-10. The same bill cleared the House of Representatives last week, 114-35.
Democratic Sen. Paul Doyle, of Wethersfield, said at least eight states have banned the gun enhancements. Lawmakers were prompted to pass such legislation following an October shooting at a Las Vegas concert that left 58 people dead and hundreds of others injured. Police say bump stocks were used in that crime.
Connecticut's bill makes it a class D felony, punishable by up to five years in prison, a fine of up to $5,000, or both, for selling, offering to sell, purchasing, possessing, using and manufacturing a so-called "rate of fire enhancement." There's an exception in the legislation for licensed firearms manufacturers fulfilling a military contract. The bill marks one of the first major pieces of gun control-related legislation since the wide-ranging package Connecticut enacted following the 2012 mass shooting at Sandy Hook Elementary School in Newtown.
In 2016, Connecticut enacted a law requiring subjects of temporary restraining orders to transfer any firearms to police or a firearms dealer within 24 hours of being served a temporary restraining order. The weapons would be returned if a judge determines at an expedited hearing not to impose a formal restraining order.
Republican Sen. John Kissel, of Enfield, questioned why this latest bill was needed. He and other opponents brought up how bump stocks haven't been used in any Connecticut crimes, to their knowledge.
"You'd be hard pressed to find a state in the United States that has tougher gun laws right now than state of Connecticut," he said. "At some point, we just don't need more gun laws in the state of Connecticut."
Kissel also raised concern about owners not being compensated by the state after being required to destroy or turn in their devices.