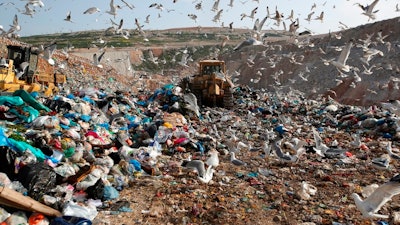 AP Photo/Thanassis Stavrakis, file
LONDON (AP) — Britain's government wants to take action to ban plastic straws, drink stirrers and cotton buds — and is urging other Commonwealth nations to follow suit.
Prime Minister Theresa May said Thursday that "plastic waste is one of the greatest environmental challenges facing the world." She told Commonwealth leaders meeting in London Thursday that protecting the ocean environment is "central to our agenda," and urged the 53 member nations to sign up to the newly formed Commonwealth Clean Oceans Alliance.
Officials say banning plastic straws in Britain would mean that billions of discarded plastic straws would no longer pollute oceans each year.
The British government also allocated 61.4 million pounds ($87.1 million) to study new ways to clean up and prevent plastic waste.
Environment Secretary Michael Gove called single-use plastics "a scourge on our seas and lethal to our precious environment and wildlife so it is vital we act now."
Later this year officials will launch a public consultation for a potential bill banning the sale of the single-use plastics in England.
If the public consultation goes well, the plan could be turned into legislation. It will need to be debated in Parliament in order for it to become law.
The government says it will work with industrial companies to help develop alternatives to the use of single-use plastics and will make sure there is "sufficient time" to adapt before any new law takes force.
Plastic straws used for medical reasons would not be banned.