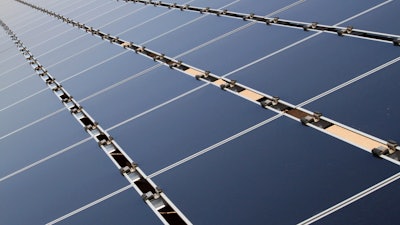 JACKSON, Miss. (AP) — Mississippi's state auditor is formally demanding that a failed solar panel maker pay nearly $93 million that he says is owed to state and local governments, a prelude to a possible lawsuit.
Auditor Stacey Pickering demanded repayment in a letter he delivered Tuesday to Stion Corp., which closed its Hattiesburg plant last year. The Republican said it's the largest amount he's ever demanded to be repaid.
Stion is the latest in a series of failed green energy companies that received loans and incentives from the state. Mississippi taxpayers have lost more than $185 million from those ventures, all entered into by former Gov. Haley Barbour's administration.
The San Jose, California, company borrowed $74.8 million from Mississippi, failed to pay $2.1 million in reduced property taxes to Hattiesburg and Forrest County, and owes $16 million in interest on the state loan and property tax payments, according to Pickering's calculations.
The demand letter means Stion has 30 days to repay or face a civil lawsuit.
"Stion is just one more example of a risky investment made by Mississippi in which the company and its management did not keep their commitments," Pickering said in a Wednesday statement.
A quick repayment appears unlikely, though. Stion closed its plant in December, blaming unfair foreign competition and laying off 137 employees. The company signed over its assets to Development Specialists Inc., which is supposed to sell them and distribute money to creditors instead of Stion filing for bankruptcy.
Stion pledged the equipment in its rented Hattiesburg factory as security against Mississippi's loan. Geoffrey Berman, a senior managing director for Development Specialists, wrote to The Associated Press in an email that his company is working on selling the equipment.
"It is however unlikely that the assets will realize the full amount of the state auditor's demand," Berman wrote.
Mississippi would then have to take its place in line with other unsecured creditors, and Berman says they're not likely to get any money back. He declined to provide an estimate of Stion's total assets and debts. Berman said no creditors have received any money yet.
Stion raised more than $200 million from private investors, in addition to Mississippi's loan. It promised 1,000 jobs and $400 million investment in Hattiesburg when it announced its plans in 2011, later cutting that amount to $250 million and 500 jobs. Pickering said he doesn't know how much Stion ultimately invested.
Pickering also criticized the Mississippi Development Authority, saying documents showed the economic development agency is at fault because at one point it was doing business with a Stion predecessor that never legally registered to do business in Mississippi.
"It was not qualified to transact business within the State of Mississippi; nevertheless, it is listed as a borrower in agreements accepted and signed by MDA," the auditor's office wrote in a seven-page report examining the state's dealings with Stion.
MDA spokesman Jeff Rent said he didn't know enough to immediately respond to the criticism.