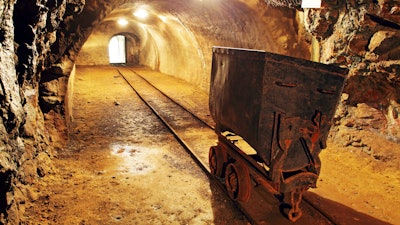 MADISON, Wis. (AP) — Gov. Scott Walker signed a bill Monday lifting Wisconsin's moratorium on gold and silver mining, reversing his vote from nearly 20 years ago imposing the ban and brushing aside conservationists' warnings that the measure will lead to devastating pollution.
The governor signed the GOP-authored bill during a mid-day stop at the Oneida County Airport in Rhinelander. The bill's supporters say lifting the moratorium will re-energize mining in northern Wisconsin and boost the region's economy.
Lawmakers from both parties put the ban in place in 1998 out of concerns about sulfide mining polluting Wisconsin's waters. Walker was a member of the state Assembly at the time and voted to impose the prohibition. His spokesman, Tom Evenson, has said in recent weeks that the governor believes mining can be done without harming the environment, but he hasn't offered anything more to explain the governor's change of heart.
"If there's anywhere in the world that should be able to conduct safe and environmentally sound mining, it should be the Badger State. #WIWorking," Walker tweeted Monday.
He followed up with a news release in which he called mining a piece of Wisconsin's history.
"With this new bill, we're paying tribute to our state's rich roots in the field and creating new family-supporting careers in the mining industry, all while protecting our abundant and valuable natural resources," Walker said.
Gold, copper, zinc, nickel and other metals are typically found bonded to sulfur. Such compounds produce sulfuric acid when exposed to oxygen and water, creating the risk of runoff polluting streams and rivers.
Sulfuric acid readily mixes with water and can kill fish, plants and insects as well as burn human skin, according to the National Wildlife Federation. Acidic waters also can release heavy metals such as arsenic and mercury when they pass through waste mining rock and mining tailings, according to the federation.
The 1998 law requires sulfide mining applicants to prove a similar mine has operated for 10 years somewhere in North America without causing pollution. It also requires applicants to prove a similar mine has been closed in North America for a decade without causing pollution.
No other state has such requirements. The Wisconsin Department of Natural Resources has never issued a final determination that any mining applicant has satisfied the standards.
The bill eliminates those requirements as well as eases sulfide mining regulations. Large-scale sampling operations will no longer need to obtain environmental impact statements. Administrative law judges wouldn't be able to block any DNR decisions on mining applications, forcing challengers into circuit court.
Mining applicants also will no longer have to establish perpetual trust funds to cover environmental damage, although they would be financially responsible for any environmental damage within 40 years of the mine's closure and would have to maintain the mine's water management systems for 250 years.
The measure comes as Aquila Resources Inc. is considering mining ore deposits in Taylor and Marathon counties. The company has been eyeing the deposits since 2011 but hasn't filed any formal permit applications.
"The Governor joins fellow GOP legislators who embrace highly polluting and damaging mining over long-term sustainable development for central and northern Wisconsin," Dave Blouin, mining chair for the Sierra Club's Wisconsin chapter, said in a statement. "This law will not result in prosperity for northern Wisconsin and threatens the natural resources that are the foundation of sustainable jobs from tourism, agriculture and our outdoor heritage."
Walker's allies praised the signing. Eric Bott, leader of the conservative group Americans for Prosperity-Wisconsin, praised the governor for signing the bill, saying in a statement that the measure is "an early Christmas present to the working men and women of Northern Wisconsin."
The bill marks the second significant piece of legislation designed to jump-start the mining industry in northern Wisconsin that Walker will have signed since taking office in 2011. The other bill dramatically loosened Wisconsin's iron mining regulations. The measure was designed to clear the way for Gogebic Taconite to dig a massive open-pit mine near Lake Superior. The company promised the mine would create hundreds of jobs but ultimately gave up on the project.
Most bills take effect within days of the governor signing them, but Republican Rep. Jerry Petrowski amended the moratorium bill to delay its effective date for six months. Petrowski said he wanted to give local governments time to develop their own mining ordinances, saying in a letter to the Wisconsin counties and towns associations that sulfide mining carries "inherent risks."