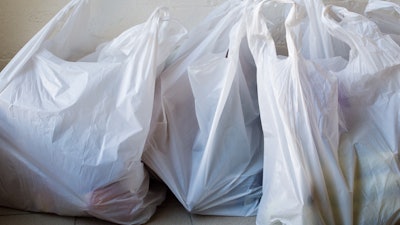 BOSTON (AP) — The Boston City Council voted unanimously Wednesday to ban single-use plastic shopping bags throughout the city.
The proposal by Councilor Matt O'Malley, a Democrat, bans flimsy plastic bags and requires businesses to charge no less than 5 cents for other types of checkout bags, including reusable bags, compostable plastic bags and recyclable paper bags. Businesses would keep all proceeds from the bag fee.
The measure still requires approval from Mayor Marty Walsh, who said Wednesday he's still reviewing it.
Walsh, also a Democrat, opposed a version of the ban last year, saying it would negatively impact small businesses and low-income families.
The American Progressive Bag Alliance, which represents U.S. plastic bag makers, called on Walsh to veto the ordinance, which would take effect a year from its passage and would allow businesses to seek temporary exemptions. The alliance said the ordinance would encourage the use of products that are "worse for the environment" than the bags the council is banning.
The Conservation Law Foundation, which supports the proposal, said more than 350 million single-use plastic bags are used in Boston each year, most of them ending up in landfills or as litter on the streets.
O'Malley, arguing for his proposal Wednesday, said residents are already indirectly paying for plastic bags since businesses factor their cost into their bottom lines and public works crews have to clear them from parks, waterways and storm drains.
The council had been weighing a citywide plastic bag ban for more than a year. Neighboring Cambridge, Somerville and Brookline are among 59 communities statewide that have imposed fees or limits on plastic bags.