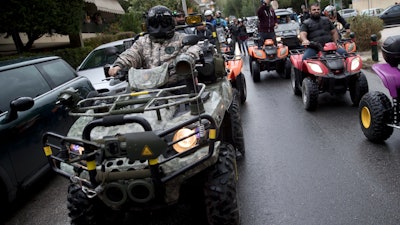 AP Photo/Petros Giannakouris
ATHENS, Greece (AP) — Hundreds of four-wheel motorbike owners, most from Greek holiday resorts, have blocked traffic outside the country's Transport Ministry to protest a proposed vehicle ban.
The bikes, also known as all-terrain vehicles, ATVs, or quad-bikes, are popular among tourists on Crete, Zakynthos and other Greek islands, and are often seen as a safer option than motorbikes.
But new traffic code regulations set to take effect next year would limit the use of ATVs, prompting fears among rental business owners that they will lose their investment and go out of business.
Many of the protesters, who staged the rally during a Monday morning downpour, traveled to Athens overnight by ferry.
Zakynthos business owner Yiannis Liveris said: "We got our plates and vehicle licenses legally. Now they are taking that away. Why?"