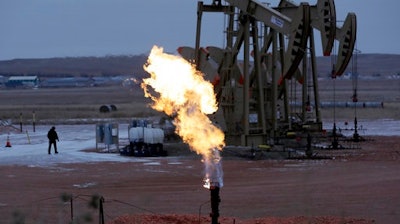 AP Photo/Eric Gay, File
WASHINGTON (AP) — Environmentalists notched a rare win in the Republican-led Senate on Wednesday as a GOP effort to reverse an Obama-era rule restricting harmful methane emissions unexpectedly failed.
The 51-49 vote against the repeal measure was a blow to the fossil-fuel industry and groups linked to the conservative Koch Brothers, which had waged a public campaign to overturn the Interior Department rule.
The rule, finalized in November, would force energy companies to capture methane that's burned off or "flared" at drilling sites because it earns less money than oil. An estimated $330 million a year in methane — the component of natural gas — is wasted through leaks or intentional releases, enough to power about 5 million homes a year.
The Interior Department said in a statement Wednesday that the rule imposes significant burdens on energy production and they would review it.
The vote marked the first time that the Republican-led Congress has rejected a bid to overturn a rule imposed by President Barack Obama using the previously obscure Congressional Review Act.
For months, Republicans have rammed through a host of reversals of Obama-era rules on gun rights, coal production, hunting and money for family planning clinics, among other issues. The review act requires just a simple majority in both chambers to overturn rules recently imposed by the executive branch.
The latest target was the Interior Department rule on methane.
Republicans and industry groups complained that the federal rule duplicates state regulations in place throughout the West and would decrease energy production on federal lands, raise energy costs and eliminate jobs.
Democrats and environmental groups countered that the rule protects the public health and generates tens of millions of dollars in revenue for state, local and tribal governments.
Fred Krupp, president of the Environmental Defense Fund, called the Senate vote "a signal victory" since President Donald Trump took office and said it shows there is "a lot of support for sensible environmental regulations going forward."
Three Republican senators — Maine's Susan Collins, Lindsey Graham of South Carolina and John McCain of Arizona — joined forces with Democrats to block the efforts to overturn the rule.
Graham and Collins had publicly opposed the repeal effort, but McCain's vote surprised many on both sides of the debate.
McCain said in a statement he is concerned that the Bureau of Land Management rule may be "onerous," but said undoing the rule through the Congressional Review Act would have prevented the government from issuing a similar rule in the future.
"I believe that the public interest is best served if the Interior Department issues a new rule to revise and improve the BLM methane rule," McCain said.
The American Petroleum Institute, the oil and gas industry's top lobbying group, called the Senate vote disappointing, but said in a statement it looks forward to working with the Trump administration on policies to boost energy production.