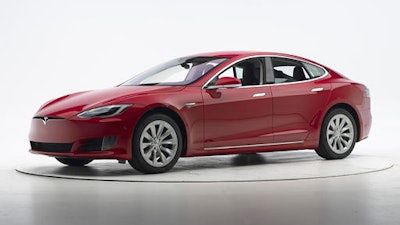 Matt Daly/Insurance Institute for Highway Safety via AP
INDIANAPOLIS (AP) -€" Indiana lawmakers are reworking a bill after critics charged that it would sound the death knell of auto manufacturer Tesla's ability to sell cars in the state.
After nearly two hours of testimony Wednesday, House transportation committee Chairman Ed Solidary called a recess and said he would hammer out a compromise between conventional auto manufacturers, their dealership franchises and Tesla. The Valparaiso Republican said the committee would reconvene Thursday for a vote on an amendment.
Tesla has an unconventional business model and sells its high-end electric cars directly to consumers -€" cutting out conventional third-party auto dealerships. That gives them a competitive advantage over traditional auto makers who are forbidden by state law from competing with their own licensed franchise dealerships, proponents of the measure said.
But the bill, as written, would institute a policy change that flies in the face of pro-business steps Republicans who control the state have proudly taken over the last decade to lure in business. Their efforts include cutting corporate taxes, offering financial incentives to businesses and limiting government regulation.
"We are a very pro-business state, but at the same time (we need to) maintain loyalty to those people who have provided jobs, invested billions of dollars in our state and have serviced the consumers of Indiana for many, many years," said Soliday.
Supporters say the bill is needed to ensure consumers are protected. And they raised fears that foreign competitors could capitalize on the state's current law and muscle American manufacturers out. It's a variation of a theme raised frequently by President Donald Trump, who has called for protectionist trade policies, especially when it comes to Mexico and China.
"Half of the steel industry doesn't exist today because of bad actors who didn't play by the rules," said Keith Busse, CEO of Steel Dynamics, who blamed China for eviscerating the steel industry that once thrived in northwest Indiana.
But Tesla supporters say the concerns, while valid, are still a smoke screen for a measure targeting a company that challenges that status quo.
This is the third year in a row that the Indiana Legislature has considered a bill that would drive Tesla from the state unless it adopted the franchise model. If signed into law as-is, Indiana would join states including Michigan in banning direct sales. Arizona, Maryland, Texas and Virginia have also passed laws to protect dealership franchises, according the National Conference of State Legislatures.
"The only people advocating for these changes are the manufacturers, the dealers and the dealers associations who have a vested interest," said Indianapolis realtor and Tesla enthusiast Mitch Rolsky.
Tesla owner and employee Gene Voss added that he would "hate to be a state that shuts the door on this kind of technology, this kind of innovation."
Soliday angrily denounced as "offensive" those who suggested the bill was an attempt to stifle an innovative company.
He said the market was in upheaval from technology changes, globalism and the Internet and wanted to ensure that consumers would have safeguards to protect their vehicle purchases.
"We keep hearing Tesla, Tesla, Tesla," said Soliday, who said the bill is not, in fact, about Tesla. We need "protection for our consumers that will apply in a new world that no one anticipated."