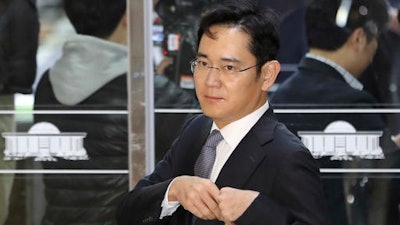 AP Photo/Lee Jin-man, File
SEOUL, South Korea (AP) — South Korean authorities said Wednesday that a Samsung scion will be questioned as a suspect in a bribery case in the massive influence-peddling scandal that led to the impeachment of the country's president.
Lee Jae-yong, Samsung Electronics' vice chairman, will be summoned to face questions by investigators probing whether South Korea's largest business group bribed a jailed confidante of President Park Geun-hye to win favors, said Hong Jong-seok, a spokesman for the special prosecutor team investigating the scandal.
Those possible favors include getting the government's backing on a controversial Samsung merger in 2015 that was opposed by minority shareholders, Hong said by phone.
Lee and members of his family were the biggest beneficiaries of the merger of Samsung C&T and Cheil Industries, which helped Lee increase his control over Samsung Electronics without having to spend his money to buy its shares.
The former health minister overseeing the government-controlled national pension fund was arrested last year. The pension fund, the biggest shareholder in Samsung C&T, voted for the merger even though its advisers recommended voting against it, giving the crucial vote Samsung needed to secure shareholder approval.
Prosecutors are expected to grill Lee starting Thursday regarding why Samsung Group sent corporate funds to Choi Soon-sil, the jailed confidante, including buying costly horses for her daughter, who was on the national dressage team.
Samsung Group did not immediately respond to an email Wednesday seeking comment.
Two Samsung executives, including a man known as Lee's mentor, were questioned in the case earlier this week.
When Lee appeared at a public hearing last month, he told lawmakers that he was not aware of the decision to fund Choi's daughter. He also denied that Samsung tried to win favors through the funds. Lee, the only son of Samsung's ailing chairman and a grandson of the company's founder, acknowledged that it was "inappropriate" but "inevitable" to send money to Choi (pronounced Chwey). He did not elaborate further.
Prosecutors asked lawmakers to file a complaint against Lee for alleged perjury at the hearing. Cho Myung-sik, a parliamentary official, said Wednesday that lawmakers had received the request and would review it.
Authorities declined Wednesday to confirm how much money Samsung spent on Choi's companies or foundations. Samsung Group declined to comment when asked about the matter last week.
According to local media and legislators, Samsung signed a contract worth over $18 million with Choi's company to bankroll her daughter's equestrian training in Germany and donated another $17 million to two nonprofit foundations whose funds were allegedly for Choi's personal use.
Hong, the spokesman, said that prosecutors have examined a tablet PC that Choi had owned and found details about what type of benefits Samsung provided to her, including the Samsung funds used in Germany.
Once prosecutors finish questioning Lee, they will determine whether to add more Samsung officials on a list of suspects, Hong said.
President Park's powers have been suspended since Dec. 9, when South Korea's opposition-controlled parliament voted to impeach her over the scandal. Her trial is currently being held at the Constitutional Court to decide whether she will be permanently removed from power.