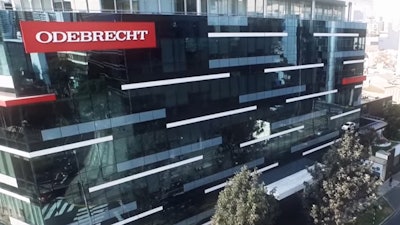 YouTube, Odebrecht
WASHINGTON (AP) — Brazilian construction conglomerate Odebrecht and major petrochemical company Braskem have agreed to pay a combined penalty of at least $3.5 billion to settle allegations that they bribed government officials in a dozen countries around the world, U.S. authorities said Wednesday.
The Brazilian corporations admitted to paying hundreds of millions of dollars in bribes, money that law enforcement officials say was authorized at the highest corporate levels and was concealed through shell companies and offshore entities. Both companies have pleaded guilty to bribery-related charges in federal court in New York and have resolved charges from the authorities in Brazil, Switzerland and the U.S.
The Justice Department called it the largest resolution ever under the Foreign Corrupt Practices Act, a 1977 law that makes it illegal to bribe foreign government officials for business.
U.S. law enforcement officials say bribes totaling about $788 million were paid since 2001 in connection with approximately 100 projects around the world, including to secure public works contracts in Panama, Peru, Angola and several other countries. Some of the offshore entities that were used to hold and disburse the funds were owned or operated by people in the U.S., and some meetings where the scheming occurred took place in Miami, federal prosecutors said.
Court documents allege that Odebrecht created a stand-alone unit, called the Division of Special Operations, that "effectively functioned as a bribe department" within the company and that relied on an off-the-books communication system of secure emails, code names and passwords.
"Odebrecht had a division in its company dedicated solely to bribery, a full team of people dedicated to criminal conduct," FBI assistant director Stephen Richardson told reporters in a conference call.
The companies have both agreed to cooperate with law enforcement, including in investigations into individual company officials. They've also agreed to be under the watch of independent compliance monitors for the next three years.
In a statement Wednesday, William Burck, a lawyer for Odebrecht, said the company was "glad to be turning the page and focusing on its future."
Earlier this month, the company apologized for its involvement in corruption scandals that led to the arrest of its former chief executives and several of its officials. It acknowledged having made serious mistakes and promised not to rely on extortion or bribes to get contracts from public officials. Odebrecht signed another agreement with Brazilian authorities to return almost $2 billion to public coffers.
The company is at the center of the mushrooming probe at state-run oil giant Petrobras, which has ensnared Brazilian politicians and business people across the board.
Some of the corrupt payments alleged Wednesday went to Petrobas employees and executives, and to political parties and government officials in Brazil, the Justice Department said. Prosecutors also accused Odebrecht of conspiring with other Brazilian construction companies to rig bids for Petrobas contracts.
Dozens of Odebrecht executives signed plea bargains with Brazilian prosecutors and as many as 200 politicians might be implicated in the corruption scandal. The company has fired 51 people who participated in the misconduct and disciplined an additional 26, according to the Justice Department's plea agreement.
Plea bargain testimony obtained by The Associated Press cites Brazilian President Michel Temer 44 times, with accusations of illegal campaign financing that put his embattled administration at an even bigger risk of ending within months.
The 82 pages of testimony by former Odebrecht director Claudio Melo Filho include allegations that Temer illegally financed his campaign in 2014. If the accusations are confirmed by Brazil's top electoral court next year, the president will be removed and Congress will pick a successor. In May, President Dilma Rousseff was impeached for breaking fiscal rules.
It is not clear whether U.S. prosecutors will be able to bring criminal charges against individual executives or employees implicated in the corruption, though they will likely face pressure to do so. A memo last year from Deputy Attorney General Sally Yates reminded Justice Department prosecutors that they should strive when possible to hold individuals accountable for corporate misconduct.
____
Savarese reported from Rio de Janeiro