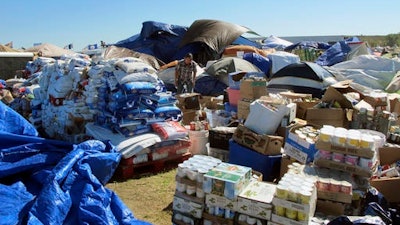 AP Photo/ James MacPherson
Tribal flags, horses, tents, hand-built shelters and teepees dominate one of the biggest, newest communities in North Dakota, built in a valley on federal land near the confluence of the Missouri and Cannonball rivers.
It's a semi-permanent, sprawling gathering with a new school for dozens of children and an increasingly organized system to deliver water and meals to the hundreds, sometimes thousands, of people from tribes across North America who've joined the Standing Rock Sioux in their legal fight against the Dakota Access oil pipeline to protect sacred sites and a river that's a source of water for millions of people.
"This is better than where most people came from," said 34-year-old Vandee Kahlsa, referencing the oft-harsh conditions of reservations across the United States. The Santa Fe, New Mexico, resident, who is Osage and Cherokee, has been at the camp for more than a month.
She joins Standing Rock Sioux members who have been here since April, people from other tribes and non-tribal members from as far away as Asia and Europe who've vowed to stay as long as it takes to block the four-state, $3.8 billion pipeline's construction. Though the Dallas, Texas-based pipeline company says it intends to finish the project, protesters have some hope: Three federal agencies are reviewing their construction-permitting process, temporarily blocking work on a small section not too far from the encampment site and asking Energy Transfer Partners to temporarily stop work on a 40-mile (64 km) span.
But given North Dakota's brutally cold winters, people will need more than the campfires warming them these days.
"I'm pretty sure by winter there will be some buildings up," said Jonathon Edwards, 36, a member of the Standing Rock tribe who lives in South Dakota and has been here since April 1, when snow was on the ground. "People who came here came here to stay."
The encampment has averaged about 4,000 people recently, he estimated; only 25 of North Dakota's 357 towns have more than 2,000 people. It's been called the largest gathering of Native Americans in a century, and the first time all seven bands of Sioux have come together in since Gen. George Custer's ill-fated 1876 expedition at the Battle of Little Big Horn, Edwards and others say.
Andrew Dennis, 42, called the encampment "creative chaos" that somehow seems to work. The California man, who has no tribal affiliation, arrived last week with supplies and food to donate.
Anchoring the camp is the Defenders of Water School, which uses two old army tents and a teepee as classrooms. Pupils learn the three R's, thanks to donated books, as well as traditional crafts and language.
Melaine Stoneman, a Lakota Sioux from the Pine Ridge Reservation in South Dakota, said it's been a unique learning experience for her 5-year-old son, Wigmuke, which means rainbow in English.
"This is a very different atmosphere that does not institutionalize the spirit," Stoneman said.
Teacher Teresa Dzieglewicz said classes have averaged about 45 students in recent days. The 32-year-old St. Louis resident planned to be at the encampment for a few days, but has since put her graduate school studies at Southern Illinois University on hold indefinitely.
"I'm lucky and honored to be part of this," said Dzieglewicz, who taught elementary-school children for three years, including on reservations in South Dakota.
The encampment is on U.S. Army Corps of Engineers land, but most believe rightful ownership belongs to the Standing Rock Sioux, who had made their home there for centuries and whose adjacent 2.3 million-acre reservation straddles the North and South Dakota border.
The atmosphere feels like a celebration of cultural reawakening, said JR American Horse, a military veteran who lives on the reservation. The scent of burning firewood and sacred herbs fills the air, as do drumbeats and ancient songs and prayers.
Flags representing tribes whip in the wind. American Horse, 60, placed them all in the ground.
"I lost count at 300," he said. "This is a good thing that people have come together."
He and his tribal brethren help with trash pickup and water-hauling, which is no small feat. The camp produces several tons of trash weekly and uses several hundred gallons of water daily.
"We keep busy," Dewey Plenty Chief, 49, said.
Nearby, mountains of food, clothing and other supplies are stacked on pallets, donations that have been shipped in from around the world, said Ron Martel, a volunteer who lives on the Standing Rock Reservation.
Volunteers like Lois Bull, a member of North Dakota's oil-rich Three Affiliated Tribes, cook for the encampment's residents. "I wanted to do something to help out and this is that something," the retired 50-year-old from Grand Forks said while rolling breakfast burritos.
On the menu: Moose meat from Maine, salmon from southeast Alaska and bison tongue harvested from a herd in the Dakotas, said Judah Horowitz, a 27-year-old real estate project manager from Brooklyn, New York, who's been here for the past several days.
"In New York, people think water comes from bottles and meat comes wrapped in plastic," he said.
Edwards, the Standing Rock tribe member who's been there since April serves another important function: He's a paramedic, treating everything from kids' skinned knees to respiratory problems for older protesters. Several other health care professionals have volunteered in the past few months, too.
He worries about the onset of winter and hopes more permanent structures can be built, though it's unclear where those structures would be located.
But most of all, Edwards said, this gathering will be remembered as a historic event that brought indigenous and water protection issues to the forefront.
"When this pipeline is stopped, and it will be," he said, "we're going to have to thank the pipeline company for all of this."