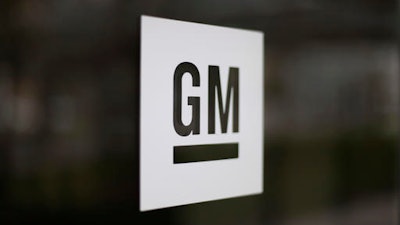 AP Photo/Paul Sancya, File
DETROIT (AP) — General Motors Co. is telling dealers not to sell about 60,000 SUVs in the U.S. because the gas mileage listed on the window stickers was inadvertently overstated.
The company told dealers that the Environmental Protection Agency-estimated mileage on the stickers is one-to-two miles per gallon too high. GM says it reported the mistake to the EPA as soon as it was discovered.
The problem affects all 2016 Chevrolet Traverse, GMC Acadia and Buick Enclave models, including ones that have already been sold. The Detroit company says it will contact owners to address the problem, but it would not say if they will be compensated for the lower-than-advertised gas mileage.
The EPA confirmed that GM reported the problem and said it will look into the matter. "We have asked the company to provide all relevant information to the agency," spokeswoman Laura Allen said in a statement.
GM said in a notice to dealers that it checked all other models and model years and didn't find any other problems with stickers. It says the error was discovered by GM engineers as they worked on the 2017 model year label. "They found that the 2016 model year label was calculated incorrectly," the notice said.
GM has printed correct stickers that should start arriving at dealers on Saturday.
Spokesman Tom Wilkinson says the error has no effect on the safety or operation of the SUVs.
He said he didn't know how many of the 2016s have been sold since they hit showrooms in August and September of last year. So far this year, GM has sold 82,137 of the SUVs, according to Autodata Corp. Most of those likely would be 2016 models.
The stickers should say that the front-wheel-drive versions of the SUVs get 15 mpg in the city, 22 mpg on the highway and 18 mpg combined. All-wheel-drive versions should say 15 mpg city, 22 mpg highway and 17 combined, according to the stop sale notice to dealers obtained by The Associated Press.
All automakers do their own testing for mileage under EPA guidelines and submit figures to the agency, which does spot checks to verify the figures. In 2012, the agency found that Hyundai and Kia had overstated mileage on 13 models from 2011 through 2013 that totaled about 1.2 million vehicles. Mileage on one vehicle was overstated by six mpg.
Company executives said the higher mileage figures were unintentional, caused by errors in following EPA test procedures. The automakers agreed to pay owners for the difference between window-sticker estimates and the correct estimated mileage.
The Korean automakers eventually were ordered to pay a $100 million civil penalty, ending a two year investigation into the overstated gas mileage on 1.2 million vehicles.
The GM sticker overstatement was reported Friday by the trade publication Automotive News.