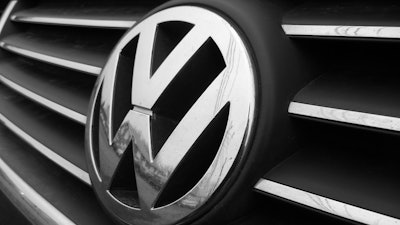 FRANKFURT, Germany (AP) — Volkswagen's board of directors has recommended shareholders formally approve the work of the company's top management team for last year despite the scandal over cars rigged to cheat on U.S. diesel emissions tests.
The recommendation is part of the agenda for the company's annual shareholder meeting on June 22. A vote to approve management's work for the year is mostly a legal formality at German annual meetings, though shareholders can show annoyance by withholding votes.
The company said Wednesday the board based its decision on information from the not-yet complete investigation by U.S. law firm Jones Day. It said that so far "no serious and manifest breaches of duty" by top managers had been found. That includes former CEO Martin Winterkorn, who resigned.
The decision reflects the board's confidence in the ability of current management, including CEO Matthias Mueller, to "manage the diesel matter and steer the Volkswagen Group and its brands toward a successful future." But the board hedged its position by saying it retained the right to seek compensation from any executives found to have misbehaved.
Results of the investigation are to be published by year-end. The company said it regretted it can't reveal any results before then on advice of its lawyers.
Volkswagen has admitted equipping some 11 million diesel-powered vehicles worldwide with software that turns off emissions controls except during testing. It said the scandal cost $18.5 billion for 2015, with more costs to come in. The company lost $1.6 billion last year, and would have made a profit without the emissions scandal.
The company is working to complete a plan in U.S. federal court to fix or buy back some 600,000 vehicles sold there. It faces recalls in other countries as well.
Despite the costs of the scandal so far, ratings agency Moody's Investors Service said that better-than-expected vehicle sales have allowed the company to contain the market impact of the scandal. It noted that the company plans to conserve cash by cutting investment spending, reducing overhead, and cutting its dividend.
Moody's warned that the Wolfsburg-based company needed to take more decisive action to restore its reputation and change the culture that allowed the tinkering with engine software. "The lack of meaningful reforms thus far to VW's internal culture and governance puts negative pressure" on the company's credit rating, Moody's said.
The effort to clean up the scandal is being mostly led by insiders, including CEO Mueller, a longtime group employee who previously headed its Porsche brand, and board chairman Hans Dieter Poetsch, the former chief financial officer.