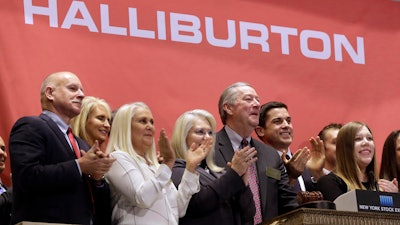 AP Photo/Richard Drew
WASHINGTON (AP) — The U.S. Justice Department is expected to sue this week to stop Halliburton Co. from acquiring rival Baker Hughes Inc., according to a person familiar with the matter. The person spoke on condition of anonymity Tuesday because the lawsuit had not yet been announced.
Representatives of Halliburton and Baker Hughes declined to comment. The $35 billion deal would combine two of the world's three leading providers of oilfield services to oil and gas companies and create a bigger rival to the industry leader, Schlumberger Ltd.
Halliburton and Baker Hughes announced their plan to combine in November 2014, shortly after oil prices began to fall. Few, however, predicted the depth and duration of lower prices caused by a global oversupply of oil. The glut has slowed demand for drilling services and crushed the stock price of both companies.
The Justice Department indicated its concern about the acquisition in a lawsuit that it filed Monday against ValueAct Capital, a hedge fund that had bought more than $2.5 billion in stock of Halliburton and Baker Hughes.
The department said in the lawsuit that a Halliburton-Baker Hughes merger "threatens to substantially lessen competition in numerous markets." Some investors have questioned the deal for different reasons.
"The timing of the deal was not ideal and many shareholders have questioned the richness of the $19 per share cash component" and a long process to combine the two companies, Evercore analyst James C. West said in a note to clients. Under terms of the deal, Halliburton agreed to pay Baker Hughes a $3.5 billion breakup fee if it failed to get antitrust approval. It promised billions in divestitures to satisfy regulators.
Low oil prices have led oil and gas companies to seek price concessions from the services companies, which in turn have cut jobs. When Halliburton completes layoffs announced in February it will have eliminated about 26,000 jobs since its workforce peaked above 80,000 in 2014. Halliburton shares rose 40 cents to close at $34.40, while Baker Hughes shares fell $2.11, or 5.1 percent, to $39.36.
Since the last trading day before their deal was announced, Halliburton shares have lost 38 percent and Baker Hughes stock has fallen 34 percent. Both companies are based in Houston.