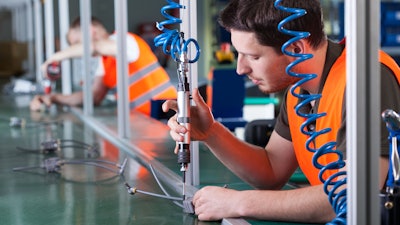 Equipment financing scams can cost businesses thousands of dollars. The Federal Trade Commission recently released a report, Scams and Your Small Business that cautions business owners that scammers often deceptively offer unrealistic deals on equipment leasing. The report further states to be wary of fine print, half-truths and flat-out lies to get a business owner's signature on a contract. Here are a few of the most common equipment financing scams in the market today.
Scam #1 - Evergreen Clauses
Equipment leasing documentation often contains an "Evergreen Clause" buried in the contract. Evergreen clauses state that the customer must notify the leasing company within 90 to 180 days of lease expiration via certified mail of intention to keep the equipment or the lease automatically renews for 12 months.
Many small business owners don't retain legal counsel before executing contracts. These contracts are often represented by equipment leasing salespeople as lease-to-own contracts with zero residual – but the actual terms in the contract will read differently. In all but our states, the leasing company has no obligation to remind the customer in time to react.
Customers are often surprised when they make what they thought would be their last payment – yet find they still owe more if they wish to keep their equipment. Often, businesses end up paying far more than what was originally agreed to.
Scam #2 – Fake Approvals
Many companies send an "approval" to a customer before a transaction has been approved. They'll ask for a first and last payment (typically $2,000 to $5,000) and then change the terms. Wording within fine print in the approval the customers sign will refer to the upfront payments as fees "earned" even if the customer does not move forward.
Some companies have been known to quote payments in these "approvals" reflecting near-zero or even negative interest rates in order to collect a deposit and "take the deal off the street." Very few small businesses will hire a lawyer over such a small amount, as the time and resources required to litigate are seldom worth the trouble. Unfortunately, this means business owners can potentially find themselves with a choice between entering a deal they didn't agree to or losing several thousand dollars.
In particularly bad cases, advanced payments have been requested from companies that don't actually do any leasing - these companies only exist to steal security deposits.
Scam #3 - Quarterly Leasing Scams
Some leasing companies pitch leases where payments are made only once per quarter. What they don't tell borrowers is about "interim rent." Imagine entering a lease on April 3rd – but the next quarter doesn't start until July 1. The company would then be hit for a payment for close to 90 days that doesn't reduce the lease balance at all. (Similar to the "pro-rata" for moving into an apartment on February 20 when rent is due on March 1).
The leasing company effectively pockets a full quarter of payments. These payments represent pure profit for the leasing company without reducing the lease balance at all. There have been documented instances of companies having "lease commencement dates" on every single day of the quarter so that all leases result in the lessee being charged a full 89 days of interim rent.
Steps to Avoid Being Scammed
A guide to equipment leasing in Inc. Magazine recommends checking the Better Business Bureau website for complaints or fishy-looking statements. Another recommendation is to Google the company and look for complaints. An easy way to check out a company is to look for the company with search modifiers such as scams, reviews or complaints.
For example, if the company name was XYZ Leasing, if would be wise to Google XYZ Leasing Complaints or XYZ Leasing Scams. Searching for the company on complaint websites such as the Ripoff Report can uncover things you may want to know about an equipment leasing or financing company.
An additional safeguard is to be sure to deal with companies that have been around at least a couple of years. A six-month old company fleecing borrowers may not have any complaints on the internet – yet. The bottom line: when leasing or financing equipment for business it pays to make sure you deal with a reputable company.
Robert Misheloff is the president of Smarter Finance USA.