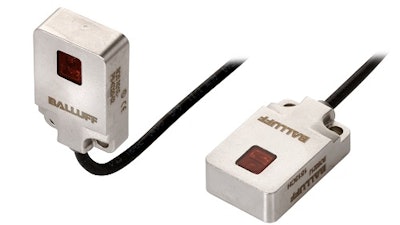 Balluff's (Florence, KY) new R01E stainless steel flatpack photoelectric sensor, with its IP69K rating, is ideal for harsh duty and wash-down applications. These sensors offer diffuse versions with ranges up to 100 mm, polarized retroreflective with ranges up to one meter, and through beam sensor with ranges up to 2.2 meters. With a precise, uniform visible red light beam, alignment is easy and objects are reliably detected. Not only does the small size provide flexibility in installation, but the stainless steel housing is built to survive the toughest applications in the harshest environments. Connections are made by cable or M8 three-pin quick disconnect. Features of the Balluff BOS R01E:
• Red light
• Miniature stainless steel housing
• Polyamide (PA) optical surface
• PNP, NPN, NO, NC outputs
• IP69K
• Diffuse, retroreflective and through-beam sensing mode.

www.balluff.us/photoelectric; 800-543-8390