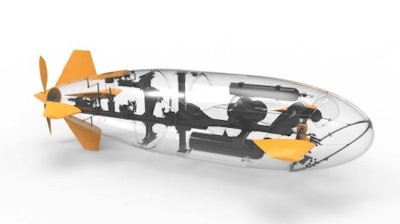 Engineering students from the University of Warwick in the UK recently used Statasys' Fortus 3D printer to produce parts for their Godiva 2 human-powered submarine. Designed to withstand the harsh ocean environment, the fins, feet, propeller and interior steering components were among the parts created by 3D printing. According to the team, 3D printing allowed for producing the parts 90 percent faster than conventional methods, while saving about $3,000.
The submarine will be entered into a race at the European International Submarine Races in Gosport, UK. Running for its fourth year, the academic project challenges final year Masters engineering students to build and race a human-powered submarine. The project involves designing and manufacturing the submarine.
Having won last year's championship by using 3D printing for prototyping parts of the submarine, the team decided to go a step further this year in using the technology for actual finished part production. All of the parts were produced from ABS-M30, apart from the propeller blades which were printed by Statasys in the U.S.
Known as 'WarwickSub', the team of six students come from various multi-disciplinary backgrounds, including mechanical and manufacturing engineering. In addition to building a one-of-a-kind submarine, the students spend a significant amount of time encouraging other students to look at STEM opportunities and work with industry partners to learn more about the latest innovations in engineering.