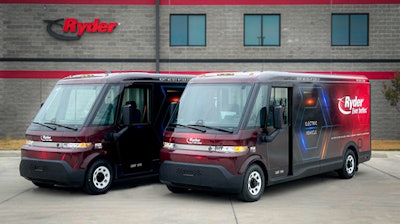 Business Wire
Ryder System, Inc. announced the deployment of its first BrightDrop Zevo 600 electric vans at four strategic Ryder facilities in California, Texas and New York.
The introduction of BrightDrop's electric vans within Ryder's rental fleet marks a step in the company's ongoing efforts to meet the rising demand and adoption of commercial electric vehicles in the U.S. Earlier this year, Ryder announced plans to introduce 4,000 BrightDrop electric vans to its fleet through 2025, with the first 200 ordered this year.
To introduce these new EVs into the Ryder fleet, Ryder hosted "Ride & Drive" events for customers showcasing the BrightDrop vans, as well as EV chargers from ChargePoint.
The BrightDrop Zevo 600 electric vans are now available for rent at Ryder locations in Southern California (Santa Fe Springs); Northern California (Hayward); Dallas-Fort Worth, Texas (Saginaw) and New York (Long Island City).
The BrightDrop Zevo 600 electric van boasts a range of up to 250 miles and can support a payload of 1,460 to 2,450 lbs. With a cargo capacity of 615 cubic feet, BrightDrop's electric light commercial van offers the benefits of an electric powertrain with ample cargo space.
"Electrifying commercial fleets can reduce operating emissions without sacrificing range, safety or performance," said Steve Hornyak, chief commercial officer for BrightDrop. "By adding BrightDrop EVs to its fleet offerings, Ryder is helping make electrification possible for companies big and small."
BrightDrop Zevos and other EV options are available for rent through the Ryder rental fleet, which provides vehicle insurance coverage, around the clock roadside assistance, single-source maintenance, geotagging for tracking and monitoring vehicle usage. The charging infrastructure at Ryder facilities is enabled by ChargePoint, a provider of networked hardware and software solutions for charging EVs, and public charging stations offer accessible charging options, enabling longer trips and greater flexibility.
Earlier this year, Ryder unveiled RyderElectric+ as its new turnkey EV fleet solution. The new offering navigates the EV landscape for customers and provides electrification advisors, leased vehicles, charging, telematics and maintenance all for one price.